Celebrating outstanding individuals and the importance of supporting one another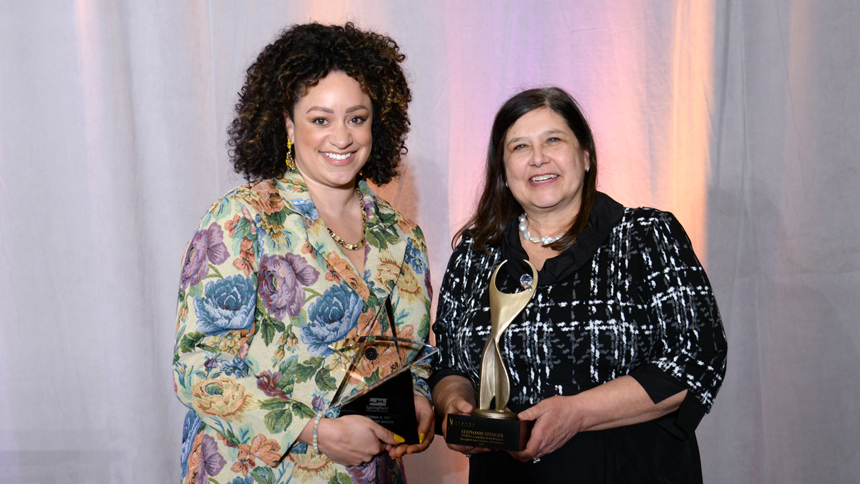 An audience of over 400 business leaders honored the 2023 recipients of the ATHENA and Virginia Fry Rising Star awards on March 22 at the White River Conference Center. The event brought the Springfield business community together to celebrate two outstanding professionals and highlight the importance of supporting and recognizing one another.  
This year's recipient of the Virginia Fry Rising Star Award was Heather Hardinger, Chief Diversity Officer and System Director of DEI for CoxHealth. Heather talked about Springfield becoming her home and offered encouragement to those serving in the community.  
Since her first day in Springfield, Heather has been looking for ways to give back, connect with people, and use her skills to make a difference. Throughout her career, her mantra has always been that when something isn't working, take another look, and try again; something she hopes will encourage other leaders to continue trying even when things seem difficult. 
"I hope that this recognition can serve as inspiration for other young women and girls who see me in leadership roles and think to themselves 'Hey, maybe I could do that too,'" she said.
Attendees were inspired by leadership coach and author, Terri Tucker, the keynote speaker of the event. Terri highlighted the importance of finding your "pack" and used anecdotal examples to elaborate on the importance of having a support system around you.  
"As a part of that pack that we find ourselves in, we discover the power to overcome obstacles, open doors, and live our own happily ever after," Tucker said.
Attendees also heard from this year's ATHENA Award recipient: Stephanie Stenger, President of Stenger Management, LLC – a woman that 2022 recipient Crista Hogan compared to the goddess, Athena. 
"Athena is best known as the goddess of war, but unlike the male war god, she's an icon of good counsel, prudent restraint, and practical insight; those things are Stephanie's superpowers," Hogan said.    
Stephanie highlighted how important her network was in every single area of her life and how serving in the community has positively impacted her. 
"As we've all personally experienced, when you work to improve your community, you receive way more than you ever give," Stenger said.
Stephanie also discussed how our community and our world needs more informed and involved citizens. Specifically referring to more women leaders, if we are to move to a more civil and less divided community.  
"What our world needs is highly engaged women community leaders to lead us out of this highly fractured society," she said. "The battle is now for civility, understanding, and supporting each other."