Finalists announced for 2023 Small Business Award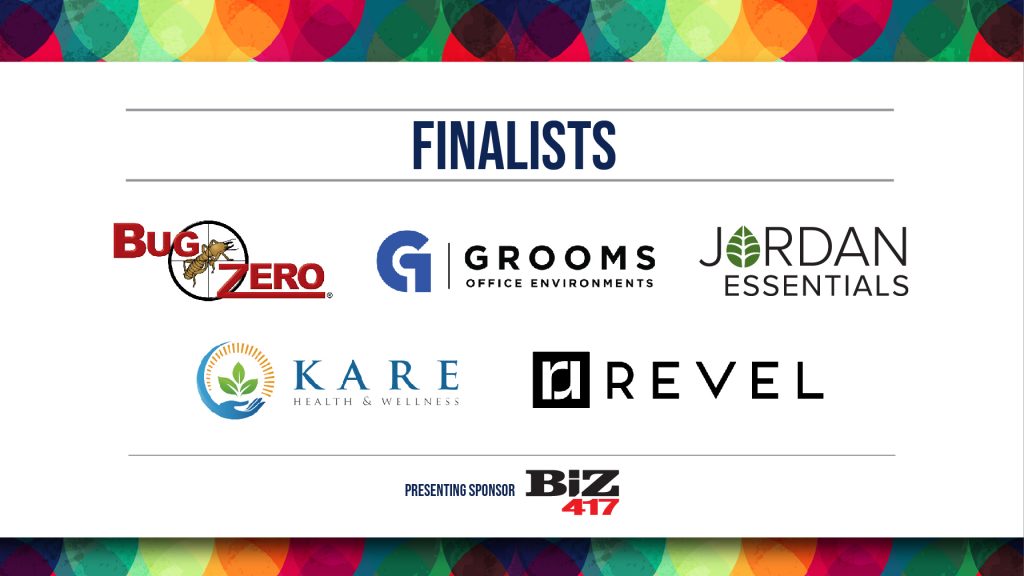 Five area businesses have been named as finalists for the 2023 Small Business Award. The finalists were determined based on written applications that include essays on company history, management philosophy, responses to challenges, innovation in product and service offerings and contributions to the community. Entries are scored by an independent panel of judges. 
Here are this year's finalists, in alphabetical order: 
Bug Zero: Owner/CEO Ivan Eftink founded Bug Zero in 1990. This locally-owned company offers science-based, proven solutions for homes and businesses, from comprehensive pest prevention to treating an existing pest problem. 
Grooms Office Environments: Now co-owned by Audrey and Johnathan Garard, Grooms has a 46-year history in the Springfield area as a full-service commercial furniture dealership. The company started with two employees as a simple filing company and is now an award-winning authorized Herman Miller dealership. 
Jordan Essentials: After starting the business in her kitchen in 2000, Nancy Bogart has continued to grow this successful business that produces fresh, healthy bath and body products. Keeping the manufacturing in the Ozarks for local jobs is also a key priority of the company. 
Kare Health & Wellness: After experiencing health issues with no resolve, owner and founder Keri Sutton began searching for answers. Her own transformation built the foundation for Kare Health & Wellness to deliver functional medicine to thousands of patients. 
Revel Advertising: Company founders Nicole and Chris Jarratt started the marketing agency with the simple belief that the answer to growth is more than just creating an ad or brochure. The answer lies in maximizing the talents of their team to help their clients discover who they are and then uniquely showcasing their brand in ways that produce results.  
The five finalist companies were featured on a panel at the Chamber's Good Morning, Springfield! event on April 6. They'll be celebrated during the Chamber's Small Business Award event on May 10 at the Oasis Hotel & Convention Center, which culminates with the announcement of the 2023 W. Curtis Strube Small Business Award recipient. The event will feature a keynote presentation from Ron Eidshaug, Government Affairs Vice President and Chief of Staff for the U.S. Chamber. Eidshaug will provide an insider's perspective of current federal policymaking with special emphasis on the impact to small business. Eidshaug is well-known for his ability to translate "Washington speak" into useful information for businesses as they consider the economic climate and plan for the future.   
The Chamber continues to recognize the importance of small businesses to the economy, as well as to the business community. In fact, more than 80 percent of Chamber members are businesses with 50 or fewer employees.