Former Network leader encourages community engagement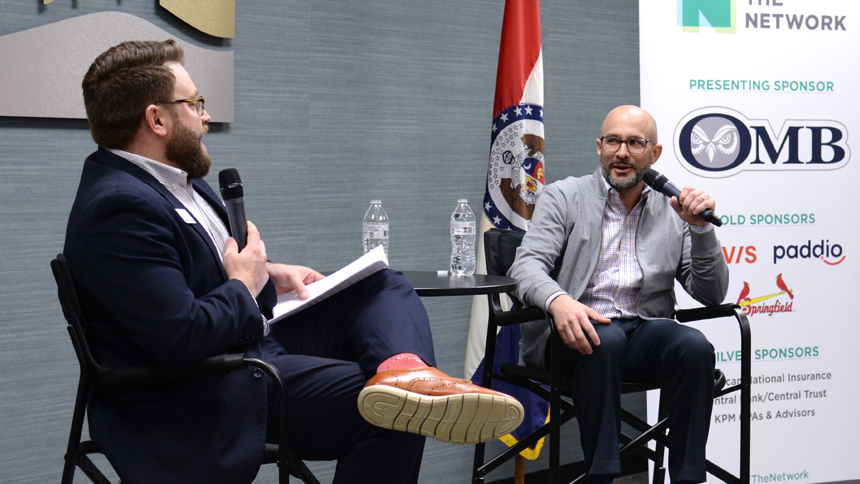 On March 7, The Network for Springfield Young Professionals hosted its first CEO Series event of 2023, featuring Brad Erwin, president of Paragon Architecture.  
Interviewed by The Network Leadership Council Chair Bryant Young, Erwin described his journey to becoming a business owner and community advocate. Although he never intended to call Springfield home long-term after moving here from Chicago, he found opportunities that gave him a reason to stay.  Erwin explained, "Realistically, The Network and Leadership Springfield are the reasons why I stayed in Springfield and why Paragon Architecture exists. The exposure those programs offered provided me with the network and confidence to start my own business here." 
Erwin also shared how his volunteer service as The Network Leadership Council Chair in 2012 allowed him to learn about the collaborative nature of the Springfield community. "Our community allows you to be in the room because it really opens up to embracing YPs and giving them opportunities." As evidence of this in his own industry, Paragon Architecture has been recognized as an "Emerging Professionals Friendly Firm" by the American Institute of Architects Central States Region.  
When asked about one of the biggest lessons learned throughout his professional journey, Erwin encouraged YPs to really engage. "Just show up – that's where a lot of personal growth happens and where relationships are built." In connection to his various volunteer leadership roles at the Chamber – including as a committee member, REACH volunteer, CLV participant, and more – Erwin challenged Network members to participate. "Don't wait to be asked," he said. 
In describing how young professionals can help move the needle for the future generations of the Springfield community, Erwin encouraged attendees to be bold. "Ignore the noise and don't be fearful of the naysayers," he said. 
Erwin left young professionals with a challenge to shift their mindset. Recalling a moment when a former employer called to see if he would consider moving back to Chicago, Erwin realized he hadn't given Springfield a fair chance. He decided to stop residing in Springfield and start really living here. He encouraged Network members to do the same. He shared his own experience in embracing that idea. "I could see the potential for my life, my family and my business in Springfield and I knew I couldn't leave without seeing it through," Erwin said.