U.S. Congressman Eric Burlison Discusses New Role in the Federal Government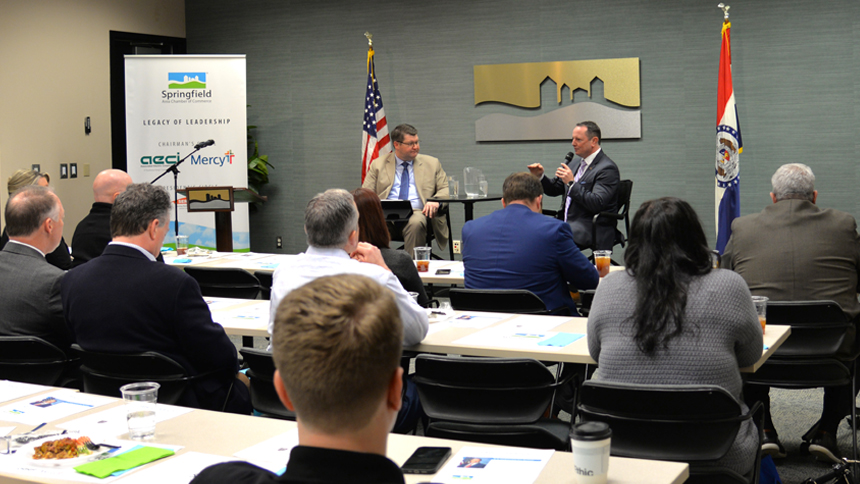 U.S. Congressman Eric Burlison joined Chamber members on February 23 for a conversation about his new role in the federal government and lessons learned throughout his time in state government. The event served as the first installment of the 2023 Public Policy Speaker Series.
Burlison started his political career by spending several years volunteering for candidates before being asked to run for the Missouri State House of Representatives in 2009. He was grateful for the employer support afforded to him when he was considering this decision.
When he brought forward this idea to his employer, Burlison shared that his employer was supportive and ensured they wanted to work with him to keep him as an employee.
Burlison was then elected in 2018 to represent District 20 in the Missouri Senate. While in the state senate, he served on several committees focused on the legal and business climate within the state.
After his long career in the Missouri State Legislature, Burlison recently began his first term representing Missouri's 7th District in the 101st United States Congress. Even though he has only been in the U.S. House since January 2023, Burlison feels he has a step up among several of his freshman colleagues thanks to his tenure in the Missouri Legislature.
Reflecting on his first couple of months in Washington D.C., Burlison shared that he is working to connect with as many members of Congress as possible to build relationships, as part of his role is working with a variety of people with different beliefs and backgrounds. Burlison expressed that his beliefs and values are unchanging, and sometimes you have to stand for what you believe is true. However, that does not mean unnecessarily attacking the beliefs of others, and it does mean working across the aisle to get things done.
"I'm not going to change who I am even if people want something different," he said. "I am going to make the best decisions I can with the knowledge I have in combination with my values."
He also provided insight into the historic Speaker of the House vote. Described as a "stressful situation," Burlison shared how this experience highlighted how much of an impact Congressional rules have on the legislative process. For Burlison, his support for Speaker Kevin McCarthy was based on his belief that McCarthy took a more traditional approach to the rules process than previous speakers.
When asked how he interacts with key stakeholders to determine the priorities of his district, Burlison wants to continue engaging as much as he can with constituents in his district. He also continues to use his private sector knowledge to provide strong constituent services.
"When I get back in the district, I try to fill my days with meeting after meeting with business and community leaders to find out what's going on in the community," Burlison said.
He has already been appointed to several committees focusing on healthcare, transportation and infrastructure, and government innovation. He expressed that he pursued these committees and several other subcommittees specifically to advocate for the needs of Southwest Missouri.
"For me, focusing on transportation infrastructure was critical," he said. "We want to be a regional hub with the best infrastructure possible, and I want to be at the table to help advocate for prioritization of our area."
Burlison also shared his focus on reducing regulations and red tape to help businesses and individuals in his district.
"Reducing regulations can be just as impactful as passing a bill," he said.
Regarding innovation and the future of our country, Burlison said, "The way to view technology is to not be afraid of it or to think that it is going to displace jobs. It may change the way we do things, but there will always be a need for work and for jobs."
Stay on the lookout throughout the year for more information about upcoming editions of our 2023 Public Policy Speaker Series.
Thank you to our presenting sponsor Hahn | DeBoef Government Relations and our seasonal Gold Sponsor CoxHealth.