GO CAPS teacher externs reflect on their experiences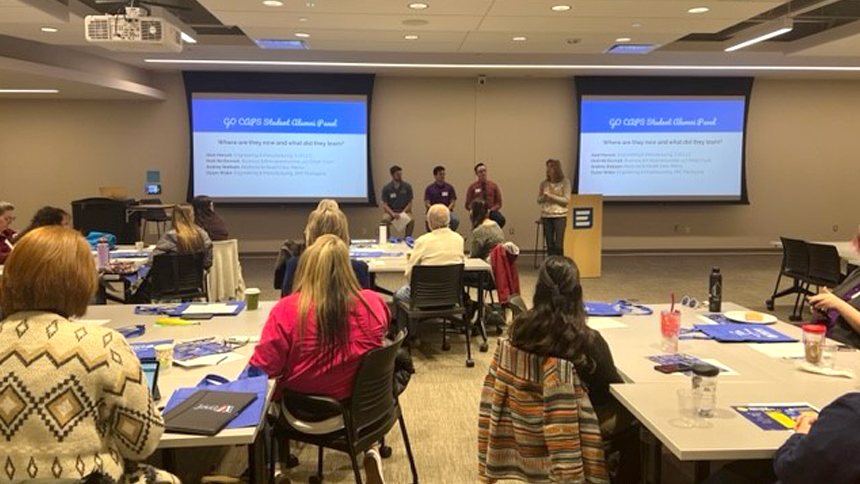 On January 26, 29 GO CAPS (Greater Ozarks Centers for Advanced Professional Studies) teacher externs had the opportunity to reconnect at the Externship Winter Summit held at Missouri State University's efactory. These teachers were previously embedded with business hosts for two days during the summer of 2022. While spending time in these businesses, externs were given valuable insight into the founding of their host companies, the products/services offered, the employment opportunities available, and the training/education necessary for team members to be successful in the workforce.
During the Winter Summit, externs discussed how they integrated what they learned about the workplace into their classrooms. They also heard from leaders of three City of Springfield departments as they shared the diverse career opportunities offered by the city for seasoned professionals, as well as entry-level positions that do not initially require additional education. The panel provided excellent exposure to public service careers that many students and parents never consider as they think about career plans.
"There is so much value in the externship, from beginning to end," said Shantra Tucker, JAG-Missouri. "Providing the opportunity for teachers to connect with and learn from local businesses is essential as it allows us to be informed about the needs of the employers and the overall scope of jobs andcareers in our area. As teachers, we know education, how to teach to a variety of levels, and how to connect with our students. What we often do not know is how what we are, or are not, doing is influencing our students as they step into the workforce. The externship is the much-needed bridge between the school and our employers."
In addition, externs heard from a panel of GO CAPS alumni who are now young professionals. The panel discussed their experiences in high school and the paths that led them to where they are now. The graduates also highlighted the skills that helped them be successful in the workplace. They discussed how GO CAPS allowed them the opportunity to explore a variety of career interests and hone transferrable skills that have been very useful in their jobs.
The Winter Summit ended with tours of OTC's Plaster Center for Manufacturing and health sciences programs. Throughout the tour, teachers were able to take a look at all the programs offered and the training facilities students can access.
If you'd like to learn more about hosting a teacher extern this coming summer, please register here.