Announcing the recipients of 2023 ATHENA, Virginia Fry Rising Star Awards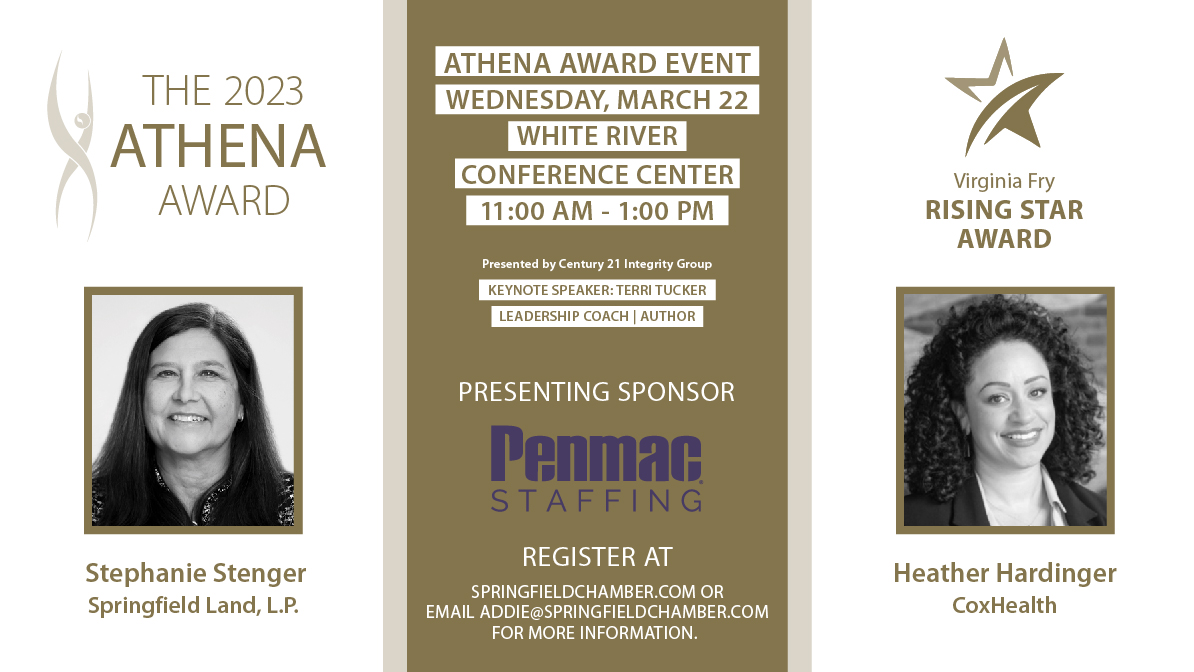 Two leaders in the Springfield community will be honored at the Springfield Area Chamber of Commerce's 2023 ATHENA Award ceremony on March 22. 
2023 ATHENA Award Recipient: Stephanie Stenger - Stephanie is president of the Ron Stenger Co. She also serves as the CEO of Springfield Land, L.P., a family-owned real estate development company.  
Stephanie is a past president of the Junior League of Springfield, former board president and current board member of Care to Learn, past chairman of the Community Foundation of the Ozarks board, and former president of the Springfield Greene County Library Board of Trustees. She has also been a volunteer leader for the Springfield Metropolitan Bar Association, Springfield Area Chamber of Commerce, Isabel's House, the Foundation for Springfield Public Schools, and the Moxie Cinema.  
The ATHENA award honors exceptional professionals and leaders, inspiring others to achieve excellence in their professional and personal lives. Recipients have not only attained professional excellence and served the community, but also have actively assisted women in their achievement of professional excellence and leadership skills. They also have contributed their time and energy to improving quality of life for others in the community. 
2023 Virginia Fry Rising Star Award Recipient: Heather Hardinger - Heather has been selected as the recipient of the Virginia Fry Rising Star Award, named after the late Virginia Fry, a pioneer in the legal profession and a beacon in the Springfield community. This award honors an emerging leader and mentor in their chosen profession and in the community - someone age 40 or younger who is already lighting the way for women leaders. 
Heather is the chief diversity, equity, and inclusion officer at CoxHealth. She was elected to Springfield City Council in 2021 and serves on the Finance and Administration Committee and the Community Involvement Committee for Council. Heather has more than 10 years of leadership experience including five years as a workforce strategist for Taney County Partnership at the Branson/Lakes Area Chamber of Commerce. She has also served on the Mayor's Commission on Human Rights and Community Relations, and as a member of the leadership council of The Network for Springfield's Young Professionals.   
Both recipients were nominated by the public and selected from among dozens of nominees by an independent panel of judges. They will be honored at the Chamber's ATHENA Award Luncheon on March 22 at White River Conference Center. The event will also feature keynote speaker Terri Tucker. An entrepreneur, professional speaker and leadership coach, Terri is also author of the book Iron Wolf: Creating an Exceptional Culture of Engagement & Responsibility.  
"Our region is blessed with leaders like Stephanie and Heather who very intentionally work to prepare and empower those around them to successfully improve the quality of life for all those who live here," said Chamber President Matt Morrow. "These two individuals are exceptional examples of the qualities embodied by these awards. We look forward to recognizing their contributions and honoring them on March 22." 
Visit our web calendar for more about the event or to register.