How manufacturers are pivoting to adapt to a new normal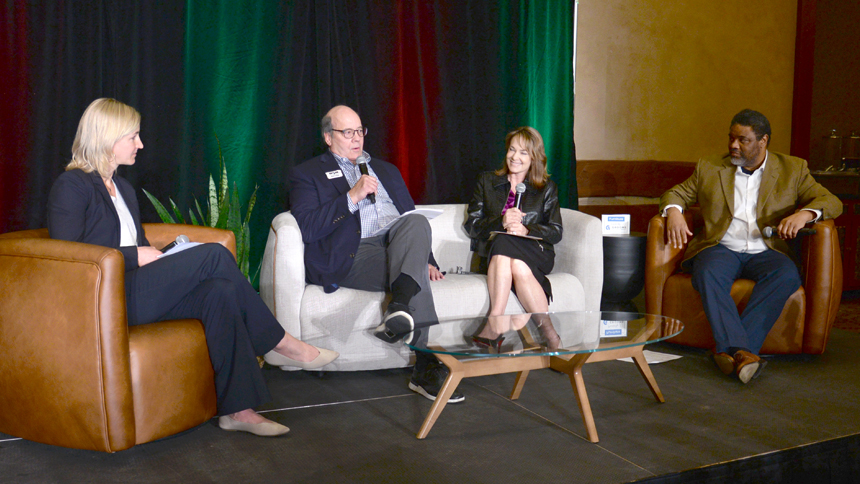 At the recent Manufacturing Outlook, a panel of area leaders from the manufacturing sector shared with a sold-out crowd how companies are pivoting to adapt to new industry norms. Vicki Pratt, senior vice president of economic development, also gave an update on the environment for economic development in the Springfield region.
The event, a part of an annual Outlook Series presented by the Chamber's economic development arm, the Springfield Business Development Corporation (SBDC), took place on December 7 at the White River Conference Center.
The panel was moderated by Christina Angle, chief financial officer for Erlen Group, and featured several other local business leaders: Kevin Ausburn, CEO and chairman of SMC Packaging Group; Reginald Davis, plant manager of The French's Food Company, and Nikki Holden, president of Custom Metalcraft, Inc.
The discussion began with panelists highlighting how their companies have begun to adapt to supply chain disruptions and prevent interruptions in production.
While the panelists agreed that their current solution to the supply chain disruption has been to bolster inventory, staffing issues have had an even greater impact on their businesses.
"We've found that over the years you almost have to hire ten people and hopefully one or two of them stick around and work out well," said Ausburn. "It's just a challenge, but it's something that we're committed to working at."
Holden discussed the various trial-and-error solutions that Custom Metalcraft has tried to address workforce concerns. So far, the most viable solutions they have found include moving to a four-day work week, promoting from within, and cross-training.
Regarding the implementation of innovative technology in the workplace, Davis said, "I don't think automation and technology are helping us with our headcount, but we are bridging the training gap by having automated training and bridging the time it takes to make a French's employee. Machines definitely work faster than people, but they are still not smarter than people."
Holden highlighted the Missouri Association of Manufacturers' upcoming Manufacturing Trade Show & Conference and shared how the inaugural I-Create Manufacturing Career Day allowed more than 500 area high school students to learn more about manufacturing careers in Missouri.
In looking toward the future, Ausburn highlighted several signs such as inflation, rising interest rates, the inverted yield curve, and high energy prices as factors that make it hard not to see a recession coming but recommended we stay optimistic long-term.
"If you look at U.S. manufacturing today, and you treated it as its own independent economy, it would be the eighth largest economy in the world. For manufacturing in the U.S. and our business in particular, I'm really optimistic about our position," said Ausburn.