Private sector experience serves Judge Harmison well on the bench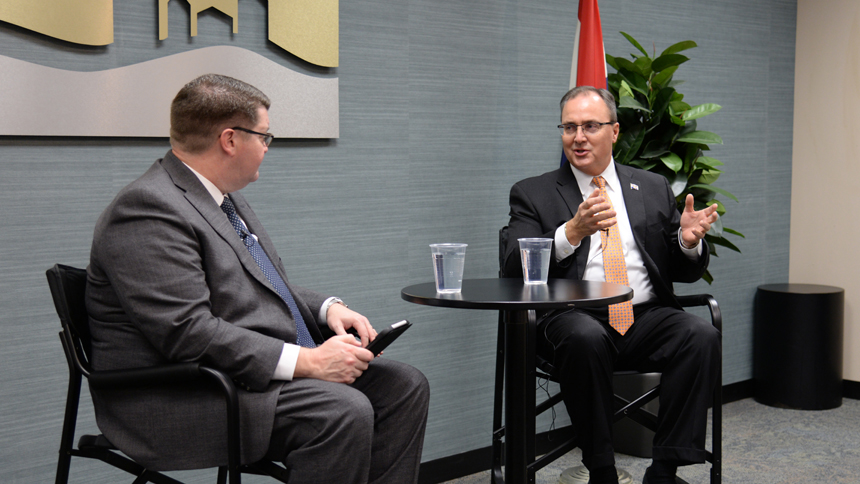 The Honorable Judge Jerry Harmison joined Chamber members on November 30, 2022, for a fascinating conversation about his new appointment as Circuit Judge of the 31st Judicial Circuit. This event served as the final installment of the 2022 Public Policy Speaker Series.
Judge Harmison has an impressive career in the legal profession. After practicing law for 30 years, he was appointed to serve as an Associate Circuit Judge for the 31st Judicial Circuit. And most recently, he was appointed by Governor Mike Parson as Circuit Judge in September of 2022. The Judge attributes both appointments in part to his involvement with the community.
Notably, Harmison served as the chair of the Springfield Chamber Board of Directors in 2011 and was elected to serve on the Springfield Public Schools Board of Education. He has also held various volunteer leadership roles, including with the Springfield Metropolitan Bar Association, Springfield Business Development Corporation, Care to Learn, Springfield-Branson National Airport, Rotary Club of Springfield Sunrise, and Big Brothers Big Sisters, among many others.
Harmison's perspective from the bench has focused on improving efficiencies and processes within the court system. This is an approach he has taken as he works to navigate a new role.
Harmison is entering his new appointment as Circuit Judge amid unprecedented turnover period in the 31st Circuit. Within the Circuit, all six judge seats will turn over in the next nine months, and soon, Harmison will be the senior judge on the 31st Circuit bench.
He sees this time of change as an opportunity for improvement in the judicial system and will continue to utilize his private sector and volunteer experience on the bench to encourage positive change.
"I think if a new team of people work together to develop common procedures and language, they will have value because they helped create it," said Harmison.
As a result of Harmison's business-oriented mindset, he has already been able to decrease his docket from over 6,000 cases to 2,700.
"If you bring a business-like practice to a public position, I believe that we can get the docket to a manageable size, and that is what I attempted to do," he said.
While the Judge has taken business practices into the courtroom, he says that it is not always as simple as being in the private sector.
"No billable hours," Harmison joked.
Yet, moving into the public sector helped Harmison grow personally and professionally.
"This is a challenge that has helped me," he said. "It really has helped me blend my interest in the law with my interest in serving our community. As a judge, you really feel like you are serving the community."
Harmison, on multiple occasions throughout the discussion, spoke about his experiences in the community outside of his profession, and encouraged others to seek the same type of experience.
"Find something you are passionate about outside of your profession and go all in on it, so you can help to build a better community," Harmison said. "You make friends and develop relationships outside of your profession and you'll make Springfield a better place to work and live."
One of Harmison's passions lies in expanding educational opportunities, which has informed his decision making on the bench.
"One question that I now ask that I didn't ask before is, 'What is the highest grade of formal education that you have completed?' I want to make sure they are comfortable reading, writing, and understanding the language," Harmison said.
Harmison advocated for keeping Springfield's young population in school for as long as possible and claims that education is one of three ways to encourage public safety and reduce crime in community. Other methods included the promotion of mental health resources and the reduction of drug and alcohol abuse in the community.
"Anything we can do as a team here to reduce dependency on drugs and alcohol in our community in the long run will help us."
Another way in which Harmison feels he has made the most impact is through his ability to give someone a second chance. He recalled a story about an individual whom he assisted in the job search process.
The justice-involved individual was struggling to find employment but was willing and able to work. Judge Harmison personally worked to connect him to the right people, and although he didn't end up taking the specific job Harmison connected him to, those efforts made an impact.
"I saw him two days ago and he said he had successfully gotten a job. Ultimately, he was on the right track."
Much of Harmison's passion to help others stems from the way his mother led by example.
"She worked hard and poured herself into the community, she poured herself into her profession, and she poured herself into her family," Harmison said. "If you do those things, it will turn out just fine."
Jerry Harmison has taken this into his own professional practices and believes that the judges in the 31st Judicial Circuit have done the same.
"I can tell you this, every individual judge, not only here but around the state, truly wants to do the best they can for the folks that are involved," he said. "I'm partial, but I think we have the best circuit in the state."
Judge Jerry Harmison will continue to serve as a Circuit Judge for the 31st Judicial Circuit under the appointment of Governor Parson. In his free time, he plans to continue flying his plane, hosting Sunday night dinners with his family, and promoting his small business, Float Trip Pickles.
Stay on the lookout in the new year for more information about the 2023 Public Policy Speaker Series.
Thank you to our presenting sponsor Spencer Fane and our seasonal gold sponsor CoxHealth.