Retiring Senator Roy Blunt shares lessons learned throughout his tenure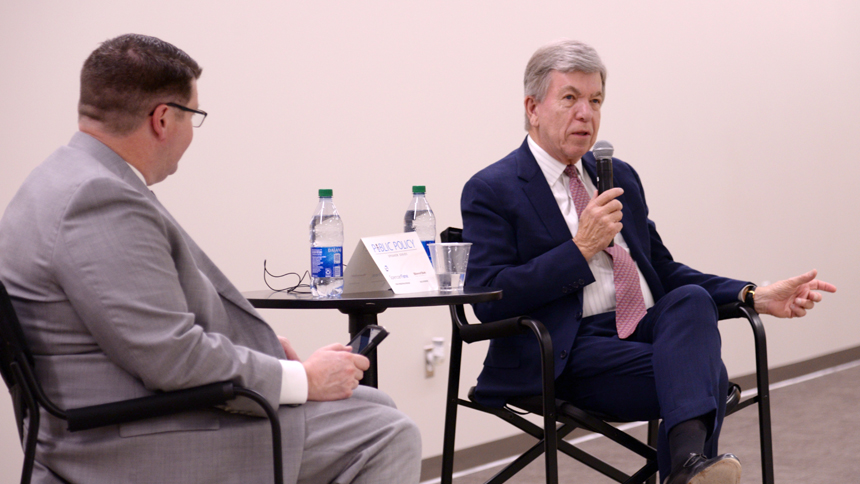 On Wednesday, October 26, retiring Missouri Senator Roy Blunt spoke to a crowd of nearly 100 Chamber members during the second installment of the 2022 Public Policy Speaker Series about his decades of experience in public service and the lessons he learned throughout his tenure. Chamber members used this opportunity to thank the Senator for his service in Congress, as he will not be seeking reelection.
"I've loved doing this job, but it's better to leave too early than leave too late," Blunt said.
Speaking to a full room at Missouri State's efactory, the Senator shared some of his proudest achievements from his time in Washington, D.C., recounted stories of working across the aisle, and took this opportunity to leave the audience with his advice for the business community.
"You do the best you can to produce the best result you can with what you have. That's my view on government, and particularly my view on Congress," Blunt said.
Blunt reflected on his experiences serving at the local level, explaining that he felt that it was his role as County Clerk that best prepared him to be a problem solver at the national level. He stated, "One of the great advantages of starting in county government is you develop a predisposition that if someone comes in the door and has a problem that is possible to solve, you're going to do your best to solve it."
After being elected to serve in Washington, D.C., Blunt was quickly elected to leadership by his peers and began serving as the Majority Whip. Since, he has served as Chairman of the Senate Republican Policy Committee, the Senate Appropriations Committee, the Senate Commerce Science and Transportation Committee, the Senate Select Committee on Intelligence, and the top Republican of the Appropriations Subcommittee on Labor, Health and Human Services, and Education.
Within his leadership on these committees, Blunt placed significant focus on mental health resources and initiatives.
"Now is such an incredible time and opportunity for mental health research," Blunt said. He worked across the aisle to develop a pilot program to encourage state treatment of mental health like all other health. That passed in 2013.
Missouri was one of the first five states to receive funding under this bill and the state now has one of the most robust mental services programs in the nation. Today, all states that choose to participate in the program have access to funding under the bill. Blunt noted that he hopes this achievement will be viewed as a part of his legacy after his retirement.
With an increasingly divided legislature, the Senator outlined the ways in which he was able to pass bipartisan legislation. "The mindset you have to get to is you don't have to agree with people on everything, you just have to agree with them on one thing," said Blunt. "You and your staff say, 'That was good. Let's find one more thing we agree on.'" 44 out of 48 bills that Senator Blunt sponsored also had a Democrat who co-sponsored.
Beyond his substantial investments in mental health resources, Blunt has played a key role in securing funding and championing legislation that has grown the competitiveness and economic vitality of the state and southwest Missouri region. This includes securing the $21 million federal BUILD Grant to build Grant Avenue Parkway, support for higher education and research through the Roy Blunt Jordan Valley Innovation Center, achieving critical funding for transportation infrastructure, broadband access, and much more.
Throughout his time addressing these challenges and expanding on opportunities for Missouri, he encouraged business leaders in the room to consider ways to maximize the region's strengths.
"Our biggest advantage is location. We have to try to figure out how we maximize that – the travel and tourism." The Senator addressed the unique business opportunities the Mississippi River Valley can bring to the area as it is a major connection to the rest of the country. At a broader level, Blunt emphasized the importance of marketing the United States as a travel destination to bring in more international tourism. He mentioned the efforts of Brand USA and how they analyze the ways that jobs created from international tourism can boost the economy.
"I'm not a person who believes democracy is designed to perfectly reflect any individual thinkers, it's designed to think collectively about what you can come together and move forward with," said Blunt. The Senator shared that he has never voted on a perfect bill, and he has voted a total of 13,411 times. He also shared his well-known saying that "If everything is a priority, then nothing is a priority." He went on to say, "I'm not the bravest person in the world, but I've never been afraid of votes and I've never been afraid to make a decision."
His final pieces of advice after 12 years in service as a U.S. Senator resonated with the Springfield audience of leaders.
First, Blunt stated, "Big things will happen you don't expect. Don't get so much in one line of thinking that you can't respond to big changes." He added, "It's usually not very hard to figure out what's the right thing to do."
The outgoing Senator concluded, "I have loved doing it. It's been wonderful. It's wonderful to represent our state because our state is so reflective of the rest of the country. Missouri is really where the country comes together in ways that don't happen anywhere else."
The final installment of the 2022 Public Policy Speaker Series event will be held on November 30th at the Springfield Area Chamber of Commerce. Judge Jerry Harmison will be joining Chamber members to discuss his recent appointment as Circuit Judge for the 31st Judicial Circuit.