Chamber hires for two positions – digital communications manager and membership development coordinator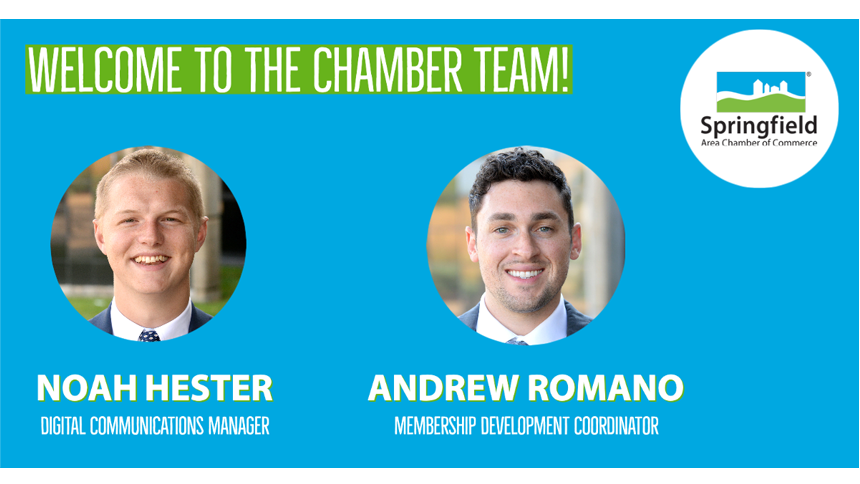 The Springfield Area Chamber of Commerce is pleased to announce two recent hires - Noah Hester is the digital communications manager and Andrew Romano is a membership development coordinator.
As digital communications manager, Hester will focus on the Chamber's online profile and presence. His duties include supporting the Chamber's brand and strategic communications objectives by creating content for and managing the Chamber's digital presence while also offering strategic and tactical support for various communications projects and events in collaboration with the Chamber team and volunteer leaders.
Hester previously served as the communications coordinator in the development department of the Council of Churches of the Ozarks. He has a bachelor's degree in public relations from Missouri State University and is certified in conflict and dispute resolution.
As a membership development coordinator for the Chamber, Romano will collaborate with the membership team to expand the Chamber's membership base. He also focuses on communicating with and serving the needs of existing members.
Previously, Romano worked as the missions coordinator for Chi Alpha Campus Ministries at Missouri State University. He has a bachelor's degree in communication and ethical leadership from Missouri State with honors distinction.
"Both Noah and Andrew bring valuable skills to the Chamber team," said Chamber President Matt Morrow. "We're always working to provide the highest level of service to our members and bringing these two professionals on board is a significant step toward reaching that continual goal."