CoxHealth President and CEO shares unique lessons learned from his professional journey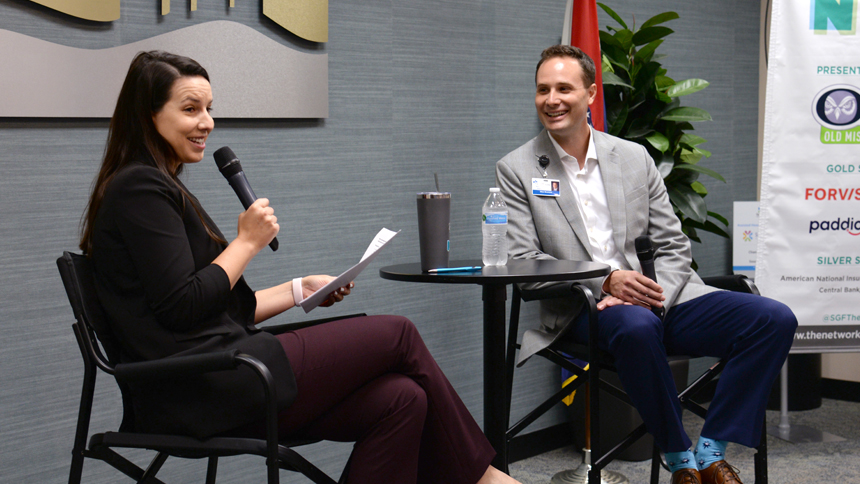 On October 11, The Network for Springfield's Young Professionals hosted the last edition of their CEO series for 2022, featuring Max Buetow, President and CEO of CoxHealth.
In an interview conducted by 2022 Network Chair, Dee King, Buetow described his journey to the community leadership role he holds today. He explained that this new role was never in his plan, but when reflecting back, he noted that each step in his career progression has been one that was not readily available. He further defined his professional journey as one focused on developing "process and people experience" as skills that could apply to any line of work.
When asked about his decision to apply for the CEO position, Buetow described a calling he felt to work alongside the employees of CoxHealth to make a difference in the community. "I decided that I wanted to take a chance on me."
Buetow also shared how Steve Edwards, the hospital's former President and CEO, helped guide him as a mentor through his transition into the new role. "No two days are alike." He continued, "I am fifty percent focused inside the organization and fifty percent focused outside the organization. I've realized that collaboration and growth come from that outward fifty percent."
In describing his future goals for CoxHealth, Buetow used one word: Easy. He explained this goal as two-fold. "I want CoxHealth to be the easiest place for our community receive exceptional healthcare and I want CoxHealth to be the easiest place for people who are passionate about healthcare to work."
When asked to share advice for other young professionals, Buetow said, "Bloom where you are planted." He experienced this first-hand in his career progression at CoxHealth and he encouraged the young professionals in attendance to apply this motto to every aspect of their lives, not forgetting about the journey along the way to success.
Buetow wrapped up by challenging young professionals to, "understand the difference between the task and the role." He continued, "Surround yourself with people who can do fifty percent of your job, and then allow them to do it." By surrounding yourself with great people, Buetow shared that young professionals can empower others to do great work while also growing in their own path. In the end, Buetow left attendees with the same sentiment he applied in seeking his new leadership role, "Take a risk on you. It will pay off."