Volunteers kick off seventh annual REACH campaign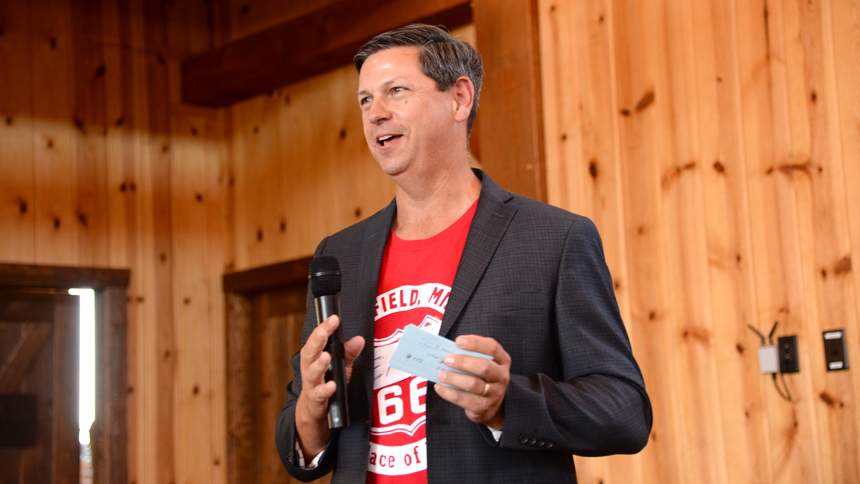 The Chamber has started the seventh year of the REACH Campaign - your annual opportunity to purchase marketing and sponsorship opportunities with us for the coming year. It's a comprehensive approach that lets you increase your visibility in the coming year with your fellow Chamber members by supporting the Chamber programs that best align with your own mission and message.
The campaign started officially with a kickoff party on August 31st at the Barley House at Moon Town Crossing. The event featured information about the campaign for volunteers as well as words of inspiration from this year's campaign chair, Brent Baldwin of Commerce Bank.
This year's campaign features several new and updated sponsorship opportunities, including a Non-Profit Outlook event, Governmental Relations sponsorship, and a Small Business Bundle which includes key items at a discount, such as tickets to the Member Appreciation Celebration and Business After Hours annual passes, to help small business members engage in a variety of ways throughout 2023.
If you want to grow your organization's brand and visibility by supporting Chamber programs and initiatives with the mission to grow more opportunities for your business, your window of opportunity is limited. The REACH Campaign sells sponsorships for all of 2023, and it wraps up in late October.
If you'd like to learn more, you can contact us or fill out this brief form to ensure a campaign volunteer will contact you and help match you with the best fit for your organization.
We hope you'll consider taking part in the REACH Campaign to make an investment in the Chamber and its mission: helping to make Springfield a great place to do business by working to increase opportunities for businesses of every size to succeed, while growing our workforce and investment in the region.