More than 400 First Responders enjoy appreciation experience at Springfield Cardinals games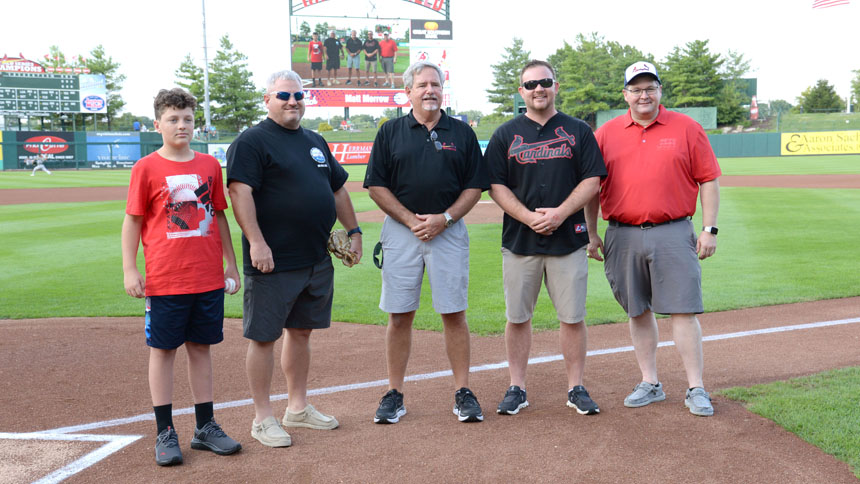 Over two nights in late August, more than 400 area First Responders and their families enjoyed an appreciation experience at Springfield Cardinals baseball games. Thanks to presenting sponsor Rick's Automotive and numerous other sponsoring Chamber members, First Responders, such as police, firefighters, and EMTs from the Springfield/Greene County area, had the opportunity to claim up to four tickets to a baseball game at no charge for themselves and family members. They were are also treated to concession gift cards, t-shirts courtesy of Community Blood Center of the Ozarks, baseball caps from the Springfield Cardinals, and cooling towels from Paddio. First Responders and their family members helped with throwing out first pitches and their service to the community was also recognized prior to and during the game several times.
"This was the inaugural year of this newly reformatted event and the response from the First Responders has just been incredibly positive," Chamber president Matt Morrow said. "For the past several years, we have been honoring First Responders at a more traditional breakfast event for the important role they play in helping our community thrive and grow. Over time though, we discovered there were challenges for our First Responders related to that time of day and format."
The Chamber team began reaching out to First Responder organizations for feedback about these logistics and how best to express the business community's appreciation for their service. "One of the things we heard repeatedly was that they carefully reserved their time off to spend with family. Having the ability to include their families in some kind of appreciation experience would have the most value to them." Morrow said.
With the help and support of Rick's Automotive and the Springfield Cardinals, this new format allows the Chamber to treat our First Responders to a baseball game with family members and more effectively express the business community's appreciation for them in a way that accommodates their work schedules better. "Based on the many thankful comments and emails we've received from participating First Responders, we look forward to continuing and growing this event in the future," Morrow said.
Would your business or organization like to be a part of the 2023 First Responders Appreciation event? 
There's still time to support our First Responders and be a part of this unique event to express the business community's appreciation for all these hardworking men and women on the frontlines of public health and safety, who help our area thrive and grow. With the Chamber's REACH campaign currently underway, you have the opportunity to secure your sponsorship now. If you are currently working with a REACH volunteer, please mention this event to them right away. If you do not have a volunteer, you can fill out a request form to be contacted or email REACH Program Engagement Manager Kim Everest at kim@springfieldchamber.com and she will connect you with a REACH volunteer.