Lippert™ celebrates expansion of a second Springfield operation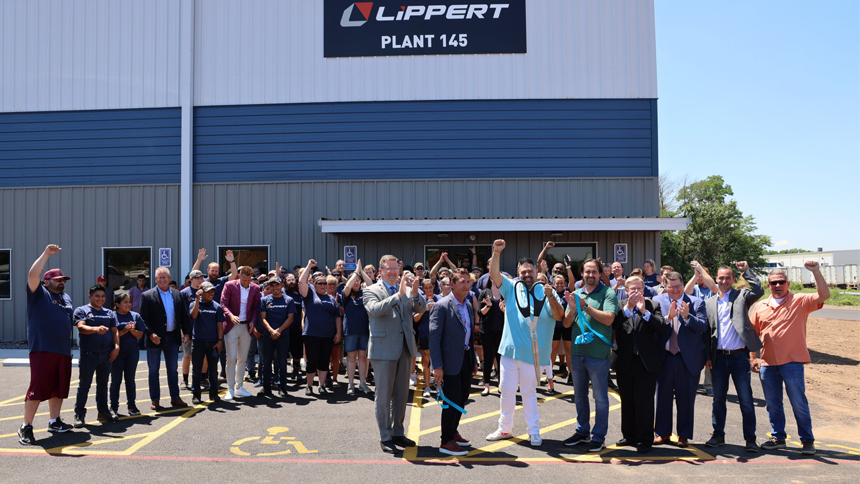 The Springfield Business Development Corporation is pleased to announce the expansion of Lippert Industries in Springfield. This expansion includes the lease of a 100,000 square foot building at 4140 W. Webster St., an investment of $1.5 million in equipment and FFE, and the addition of 90 new employees! This new Lippert operation will expand their footprint in Springfield and lift the workforce from 110 to 200 Full Time Equivalents.
Lippert is an international company with over 140 locations in 22 states in the U.S. and twelve countries. They produce products that serve the RV, Marine, Towing, Truck Accessories, Utility Trailer, Commercial Vehicle, Hospitality, Building Products, Rail, Fitness, and Insurance industries. The company has a strong culture that lives by the "Everyone Matters" motto and gives back to every community they are in.
Lippert has experienced considerable growth over the past 10 years; from revenues of $705 million in 2011, to $4.5 billion in 2021. Numerous acquisitions and organic growth are fueling these increases. The Springfield location is focused on marine furniture manufacturing.
"Sixty-two years ago, Lippert was founded on the pillar of how we can service the customer better. This has been a constant through the decades. When the current generation of leadership took this company over in the early 2000's we rapidly expanded into the RV industry by building manufacturing facilities in the literal back yards of our customers. This allowed us to provide the best customer service possible. If these customers had an issue, we were there in minutes to provide a solution. Fast-forward to today and we have done something very similar with the marine industry. Building a facility in Springfield allows us to not only provide that customer experience, but to be true partners in our expanding marine business which Lippert is focusing on more than ever," said Ryan Smith, Group President of Lippert. "We are proud to call Springfield home! The experience with the community thus far has been nothing short of fantastic and we look forward to expanding our cultural and philanthropic presence there for years to come."