Governor Parson highlights historic investments and statewide successes at '22 State of the State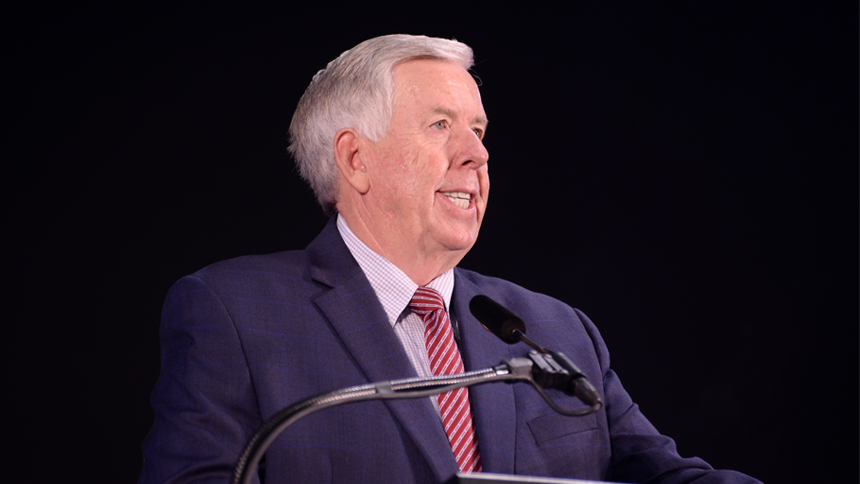 Governor Mike Parson outlined tremendous investments being made in Missouri's infrastructure, broadband, workforce development, K-12 and higher education, childcare and more at the Chamber's annual State of the State on August 2.
Speaking to a sold-out crowd at Missouri State University's Great Southern Bank Arena, the Governor shared numerous details about the state's strong economic health and growth, including the fact that the state's general revenue is up by 20 percent over last year.
"We are capitalizing on every opportunity to make Missouri an even better place to live, work, raise a family, and grow a business," Governor Parson said.
Additional indicators related to Missouri's competitiveness with other states show promising performance as well.
"When you hear this list of recognitions our state is earning, it becomes even clearer why companies are choosing our state to invest, grow and create good-paying jobs," he said. "We are now first in the United States for the low cost of doing business. We are first in the United States for on-the-job training. We are third in the U.S. for apprenticeships."
These standings have improved throughout Governor Parson's time leading the state, as he has continuously prioritized investing in workforce development and transportation infrastructure.
A major legislative win for the business community and region was the extension of the Fast Track Workforce Incentive Grant, along with significant program improvements. This grant funding addresses workforce needs by encouraging adults to pursue a certificate, degree, or industry-recognized credential in an area designated as high need. Fast Track has been strongly utilized by southwest Missouri higher education institutions, and has been a key priority of Governor Parson, Springfield Senator Lincoln Hough and the Chamber.
The 2022 legislative session further resulted in record investments in many of the Chamber's key legislative priorities.
Under Governor Parson's leadership, the Missouri Legislature fully funded the K-12 education foundation formula in the state, along with the K-12 transportation formula. Over $30 million was also allocated for Missouri Excels projects, an employer-driven workforce training program, along with $30 million for Missouri One Start to assist employers with training and up-skilling workers.
The Governor referenced the $429 million designated to strengthen the state's childcare and early childhood education network. The state will also be making a record $1 billion investment to help with childcare across the state.
"One of the unique things about this, part of this money will go to private businesses – they can join together with other businesses – to create their own childcare facilities," he said.
Additional allocations include nearly $400 million to expand broadband connectivity across the state and more than $600 million to update and improve water, wastewater and stormwater systems.
"We know this may not be the most glamorous topic, but this is critical infrastructure for communities big and small," he said. "Additionally, the Missouri Department of Transportation recently announced a more than $10 billion statewide transportation improvement plan. This plan is the largest ever in approved projects in every corner of the state over the next five years."
The Governor also outlined his proposal to lower Missouri's income tax from 5.4 percent to 4.8 percent which would be the largest tax cut in the state's history.
"We have always been able to balance the budget," he said. "Now is the time to get back to Missouri and return some of their hard-earned money to individuals."
Prior to the Governor's address, he was welcomed and thanked by Missouri State University President Clif Smart, Ozarks Technical Community College Chancellor Dr. Hal Higdon, and Chamber Chairman and small business owner John Oke-Thomas. Dr. Higdon also spoke on behalf of the Springfield Metro Partnership, thanking local legislators for their work in 2022.
"Southwest Missouri speaks with one voice and the Springfield Metro Partnership is the way we do that," Dr. Higdon said. "We often hear from our legislators that our ability to jointly advocate for priorities is effective and continues to be a model for the rest of the state."
The 2022 legislative session was a successful one for the Chamber's business-driven priorities and the Springfield region. For a full recap of the session and details about legislative wins, click here.