A time to thank our members and volunteer leaders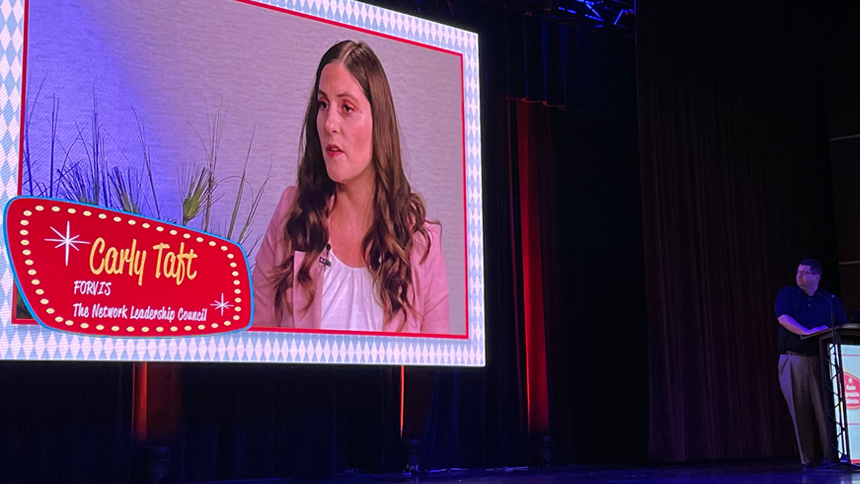 At the Chamber's recent Member Appreciation Celebration, we thanked our members for their continued support of the Chamber and provided a mid-year strategic progress accountability report. We heard from volunteer leaders about why they are willing to invest their time, talent and resources in the organization, and we also announced Brent Baldwin, Commerce Bank, will serve as chairman for the 2022 REACH Campaign.
Attendees enjoyed networking time prior to the Route 66-themed event which included a "Mother Road" trivia quiz, selfies with a classic car and an old-fashioned soda fountain.
Following a welcome from presenting sponsor Abacus CPAs' Managing Partner William A. "Bill" Dunton and lunch, members had the opportunity to hear from a number of the Chamber's volunteer leaders about their motivation for serving the Chamber, it's impact on the community and the benefits that result from that investment of time. It was inspiring to learn more from business leaders like our Vice Chair of Economic Development Trevor Crist, Nixon & Lindstrom Insurance, and Small Business Council Chair Linda Daugherty, Academy of Hair Design & BeVelle Barber, about their priorities and reasons for serving. You can take a look at those video segments below.
"It's clear – the Chamber's success is tethered to you," president Matt Morrow said. "Every investment of time, talent and resources you make, helps us realize the mission. Our members make it happen. One of the areas in which that is very evident is our REACH campaign - a volunteer-led effort to offer members multiple ways to increase visibility by supporting and sponsoring the Chamber initiatives that most directly align with your company's own mission and messaging." The campaign officially kicks-off on August 31. If you'd like to be contacted by a volunteer regarding sponsorship opportunities, click here.
Morrow went on to share a video with 2022 REACH chair Brent Baldwin. "We sat down with Brent recently to explore this initiative and his willingness to lead the effort in 2022. And, you'll also hear again from Carly Taft, a seasoned REACH volunteer," Morrow said. See that video below, as well.
Thank you to all those who attended our Member Appreciation Celebration. We are grateful to all of our members - we could not do this work without you. Your support fuels the Chamber's efforts to grow more opportunities for business, our workforce and investment in the region.