Connecting businesses with federal funding information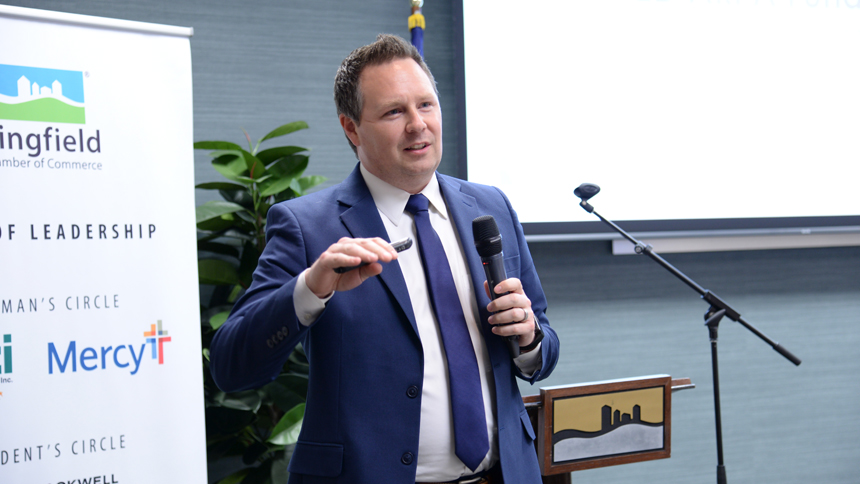 When the federal government passed the American Rescue Plan Act (ARPA) in 2021, it spelled an additional influx of federal dollars into state and local coffers. For Missouri, it meant $2.6 billion of additional funding for a wide range of uses – including help for businesses and support for potentially community-transforming projects.
Leaders from the Missouri Department of Economic Development (DED) visited the Chamber on June 13 to offer an update on the plans for some of the state's ARPA money and how organizations could potentially benefit.
Shad Burner, the DED director of federal initiatives, told the packed room about several potential buckets of funding that the state is making available, including:
Community Revitalization Grant – These funds encourage strategic investment to revitalize communities and spur economic development, by supporting projects like tourism, downtown development, and blight mitigation. $100 million is available for government entities and nonprofits and requires a 50 percent match.
Industrial Site Development – The state is setting aside $75 million to support critical business expansion and recruitment efforts through development of local industrial sites, including site infrastructure and land assemblage. A 50 percent match is required.
Workforce Training Grant – There is $30 million set aside for training and upskilling those who are unemployed and underemployed.
Small Business Grant – The state also set aside $10 million for grants to small businesses. The money is set aside specifically for reimbursement of pandemic-related costs.
Burner said the state wants to be intentional and invest the money in a way that will make a long-term impact. "Regardless of whether we think it was a good idea for the federal government to spend this money, by the time it gets here, it is incumbent on us to invest it in the right way," Burner said.
While these grant opportunities are not yet finalized, more information on eligibility requirements, applicable funding uses, and the timeline for applying will soon be available at moarpa.mo.gov.
Kristie Davis, director of Missouri One Start, also offered insight into the state's workforce development efforts. One Start was set up to act as a one-stop shop to help employers develop training programs that can aid in both retention of employees and recruitment efforts.
Davis told those in attendance that One Start offers several other services as well, including a free jobs board for vetted companies and customized micro-websites, hiring emails and social media campaigns to help companies find their next great team member.