Veteran lawmaker reflects on unusual but successful legislative session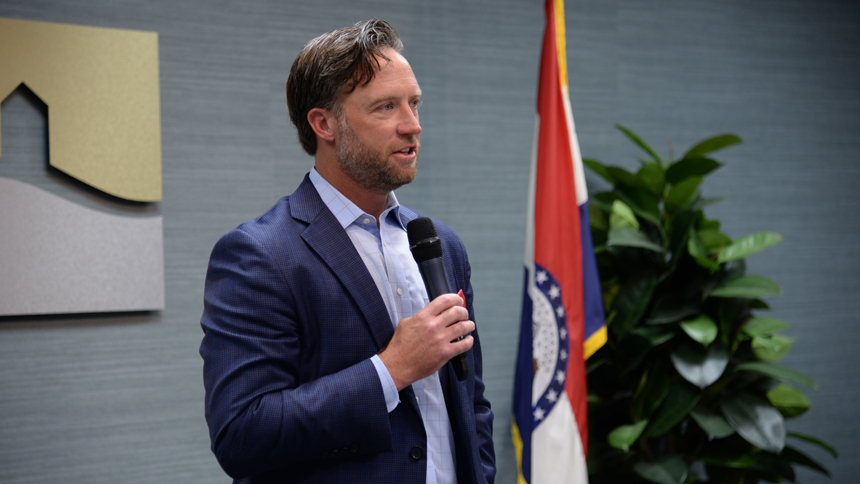 Lincoln Hough has been in the Missouri Senate for four years and previously served three terms in the state House of Representatives. But as the senator told a packed room on May 31 during a meeting of the Chamber's Governmental Relations Committee, the 2022 legislative session included increased levels of both animosity, and of opportunity.
Hough (R-Springfield) said one unique opportunity came from the influx of federal pandemic relief funds – an extra $12 billion for Missouri to invest in projects and initiatives with long-term impact on the state. "I've been on the other side of that, when I was in the House and we were cutting $500 million from our budget, so this is a better place to be," he said.
The senator reflected on what was ultimately a very successful session for business community priorities, including investment in workforce development. Hough noted that the first bill passed out of the Senate was an extension and enhancement to the state's Fast Track workforce grant program. Hough, who sponsored that legislation, pointed to the consistent message from the Chamber and area businesses as a reason for its success.
"You all are the people who are employing in our community, and when you consistently say you're having a hard time finding employees, these are the kind of things the state needs to do," Hough said. "Education is the way to prosperity, and it goes from early childhood all the way into the post-secondary world."
Hough defines his approach to his role as a senator as serving as a representative of his community and listening to the needs of employers and local representatives to influence what legislation he prioritizes.
"I don't go to Jefferson City with a list of personal items to get done," Hough explained. "My agenda is your agenda, and I want to help empower our local leaders to run our community."
Hough, who serves as vice chair of the Senate Appropriations Committee, was able to meaningfully impact projects in Springfield, including funding for Missouri State University and Ozarks Technical Community College, K-12 education, various community priorities and more.
Despite the successes in funding for workforce and education, items Hough is especially passionate about, he said he is concerned about the increasing rancor and vitriol in politics. "It's not just the politics I'm involved in; it's the school board, it's the city council" he said. "I've always said that even if you disagree with me, let's be civil about it. But I don't see a lot of room in the world for that anymore."
He noted that he was especially disappointed with those in the Senate who attempted to hold up business priorities to pull focus to their own issues, which often served as lightning rods for debate and animosity.
"I always say I can work with anybody. But you can't work with people who say, 'You have to do it my way 100 percent of the time or you do nothing,'" he said. "(The senate) doesn't work that way."
Even considering those issues, Hough noted that southwest Missouri continues to be unique in the state for its ability to follow through on collaboration and work together in what has become an increasingly divisive environment – and he encouraged the business and community leaders in attendance to continue making their voice heard. "It is my pleasure and honor to do this job and I can only do what I do (in the Senate) because of the community I'm fortunate enough to represent," he said.