Employers share best practices for employee health and wellness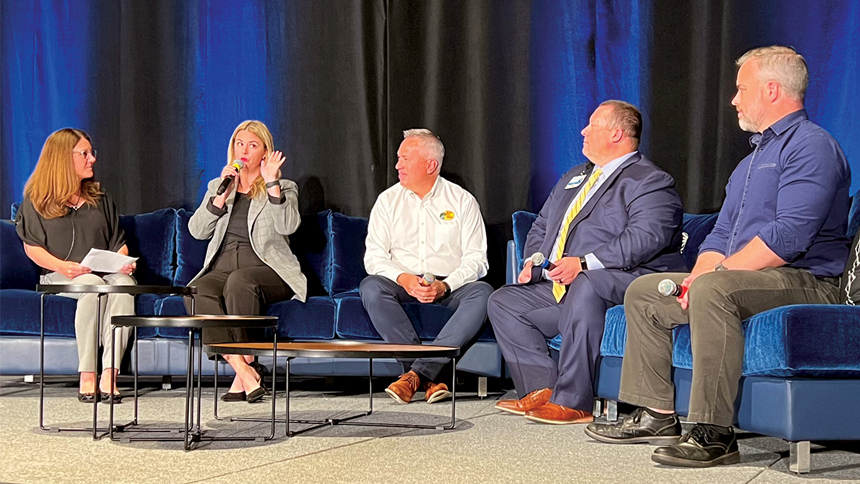 As some employees reassess their personal and professional paths, many employers are finding innovative ways to address their employees' physical and mental well-being, from improving access to primary health care to destigmatizing mental health in the workplace.
Several organizations, both in and out of the health care industry, shared their approaches during the SBDC's 2022 Health Care Outlook event on May 18 at the DoubleTree Hotel.
A panel of local business leaders discussed the ways that their own organizations are, by necessity, being more creative in how they approach employee wellness, and how those new approaches play into employee attraction and retention.
For a large organization like Bass Pro Shops, one of the first steps was working to expand employee access to convenient and affordable health care. Gary Ehlers, Bass Pro's chief human resources officer, said the company has worked with partners like Toyota and Walmart to begin offering health clinics for their own employees, including those in Springfield.
"This is not only our commitment to our employees but to Springfield," Ehlers told those in attendance. "You have the chance to go right across the street and see a doctor. It's an important employee value proposition."
Not every organization has the wherewithal to create an in-house health care option for employees, and many of those smaller businesses are getting more creative with their approach to benefits.
"We had a lot of benefits in place, but over the last couple of years we realized we needed to focus more on health care, so we invited the employees in on the conversation about what would be of value to them," said Emily Alloway, director of human resources for Campaignium. "We've had amazing feedback; we've also seen an increase in retention, and it's been a great recruiting tool."
Mental health is also taking center stage and becoming more integrated into overall health care strategies and benefits. Burrell Behavioral Health psychologist Dr. Philip Swope said the key to employers successfully approaching mental health is to de-stigmatize the issue in your benefits package.
"Is PTO set up to be generally used? Or do you have specific mental health days? There are pros and cons to both," he said. "On one hand, general PTO gives the employee a great deal of empowerment; they can take a day off because of mental health or self-care. On the other hand, some younger employees expect mental health to be specifically addressed. Overall, stigma is everywhere, and this is one specific way to address that."
One issue many employees have is that it can be difficult to discuss mental health issues because they are often hard to quantify, said Dr. Curtis Mattson, director of clinics for CoxHealth. That even extends to those who work in the health care industry itself.
"When we ask our people to talk about mental health, it's a subjective experience and often it's hard to describe it to a professional," he said. "What we're doing in health care is initiating that conversation and saying, 'It's ok to be open, even if you're not sure how to describe it.'"
The panelists agreed that one of the keys to successfully addressing all employee health needs is empathy. "You need to network and continue to learn," Ehlers said. "It doesn't matter if you have 10 employees or 50,000; we're all going through the same thing."