Cabinet Concepts by Design receives 2022 Small Business Award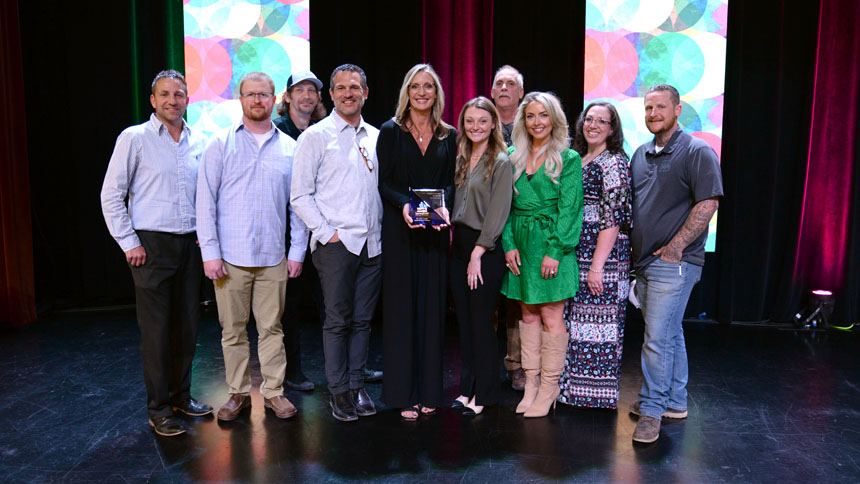 During its annual event on May 4, the Chamber announced Cabinet Concepts by Design as the recipient of the 2022 W. Curtis Strube Small Business Award.
More than 300 guests were on hand at the Oasis Hotel & Convention Center for the event, which honored all small businesses including the field of five finalists for this year's award – a group that also included Audio Acoustics, Breast Cancer Foundation of the Ozarks, hdesigngroup, and Hold Fast Brewing.
Cabinet Concepts by Design Owners Matt and Shelley Wehner purchased a four-person cabinet shop in 2007 and re-branded it Cabinet Concepts by Design. The company grew in its initial Nixa facility before expanding and moving its facility to Springfield in 2014. The company, which now employs 38, also added custom closet design and manufacturing through their Simply Organized by Design division.
The company has also been actively involved in workforce development by connecting with area high school woodshop teachers and inviting classes to tour the facility, as well as offering tours and internships to participants in Missouri State University's Interior Design Program.
"Cabinet Concepts by Design has grown through a time-honored combination of hard work, connections with customers, and taking care of their employees," said Chamber President Matt Morrow. "They've taken a smart approach to growth and combined it with an innovative mindset and can-do attitude, and the result is a thriving business that we're proud to recognize with this award."
Attendees also heard a keynote address from Curtis Marshall, co-founder of Tie & Timber Beer Co. Marshall talked about the importance of collaboration, even among potential competitors, to be successful and grow not only businesses but the community.
He said others in the industry, including 4 By 4 Brewing Company Owner Derek Shimeall and Lost Signal Brewing owner Tyler Hoke, were willing to talk with him about his business plan and ways all the companies could grow.
"It all goes back to that idea that a rising tide raises all boats," Marshall said
Learn more about all five of this year's finalists by watching this special video, created by 1996 Small Business Award recipient Opfer Communications!
About the Small Business Award
The Small Business Award is named for Dr. W. Curtis Strube, late director of the Breech School of Business Administration at Drury University, who was a dedicated advocate of small business and founder of the Chamber's Small Business Council.
Honorees are determined by written applications scored by an independent panel of judges, consisting of the previous recipients, local business experts, and volunteers from the Small Business Council.
Thank you to our sponsors!