Helping businesses consider the shift to remote work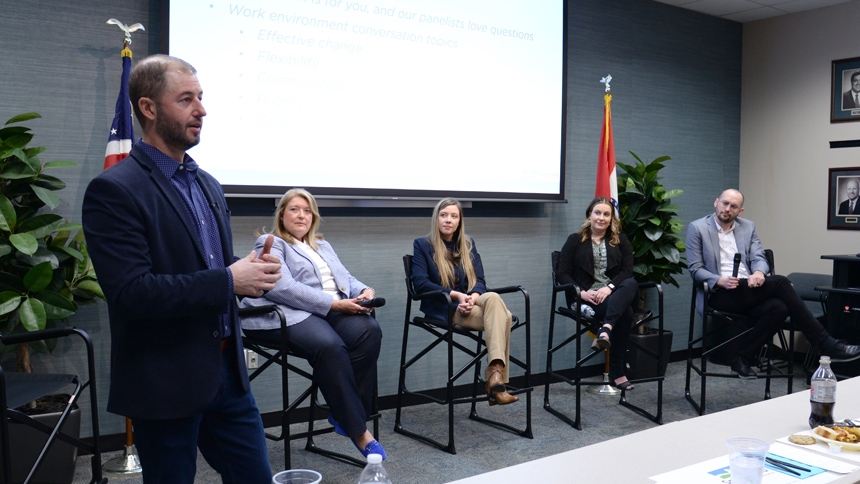 The pandemic changed many things about the way businesses operate. Some changes were temporary responses to the immediate circumstance, but others likely will have staying power. One of those changes that will likely be around for the long haul is the shift some employees and employers have made to remote work.
A panel of local business leaders offered their insight into how they are approaching this new normal during the first edition of the Chamber's 2022 60 Minutes to Success series on March 16.
Heath Alloway of Upstream Academy led the panel, which featured four business leaders:
Rachel Anderson of the Missouri State University efactory
David Church of Campaignium
Elizabeth Hurst of Human Resource Advantage, LLC
Karen Shannon of Ollis / Akers / Arney Insurance & Business Advisors
Shannon said her company began moving to shared workspaces for their advisors and sales team in 2019, before anyone had even heard of COVID-19. She said that while the model isn't perfect for every business or every employee, it was a great fit for their firm.
In addition to the advantage for the individual employees, she added, it also makes the company more attractive to potential new employees.
"If you don't have a permanent program in place, you should develop strategies around people, processes, technology and real estate," she told the nearly 60 in attendance. "Let people know, 'We can be flexible, we can adapt, and we can make it work.'"
The flexibility of the new model, according to Anderson, can be a benefit to both employees looking for new options and for employers looking to add to their teams. The key, she added is making sure that all employees – whether they work in-person, remotely, or in some hybrid form – are aware of what is allowed and what is expected.
"It used to be that if you wanted to work in certain industries, you had to live in certain cities. That is no longer a thing, and employers have had to face that change, too," she said. "Some jobs will always require you to be in person, and some people work better in person or in other settings. But you have to be realistic with your expectations of your employees, and you have to be clear about them, so that everyone is on the same page."
Having that clearly stated plan in place is essential to keeping your team members in the loop and preventing unneeded anxiety, according to panel moderator Heath Alloway. And, he added, businesses shouldn't feel locked into their first working model – because just like with any major shift in business philosophy, it's not going to be perfect from the get-go.
"Flexibility without parameters causes angst, and change of any kind is hard," he said. "Focus on progress, not perfection."