State rep discusses outlook in General Assembly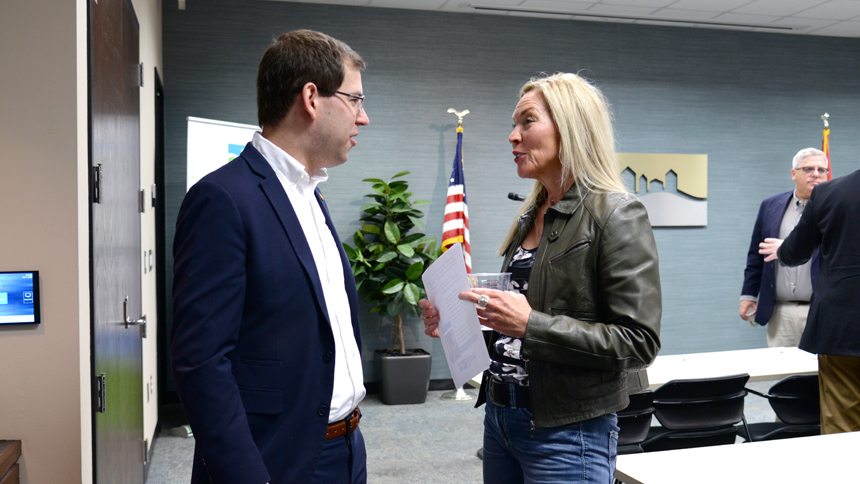 When State Rep. Alex Riley visited the Chamber in early March to offer a legislative update to the Governmental Relations Committee, he shared that one of the biggest issues hanging over the General Assembly was the gridlock in the Senate due to ongoing battles over the redrawing of the state's Congressional map.
"It's not necessarily a bad thing that we don't pass hundreds and hundreds of bills every year, but I think this year there will be fewer bills passed this year than in the past," Riley said. Even though the Senate and House are still in negotiations over a new map, progress has been made, and the road may be opened slightly for movement on other items.
Riley, a first-term Republican representing parts of Greene County in the Missouri House of Representatives, says one of the first orders of business will be making progress on the annual budget. He noted that each of the House budget subcommittees have been working on their priorities to send to the full budget committee, and the goal is to send a budget out of the House to the Senate by mid-April.
The potential for Springfield to benefit from budget items, especially in the spending of $2.8 billion in federal stimulus money coming to Missouri, was something Riley specifically mentioned.
"Springfield has a real opportunity to have a voice in how those stimulus dollars are used," he said. "We've had a lot of discussion about how the city and state can partner to maximize our opportunity, ."
Riley noted that the governor has already made his recommendations for that stimulus money, and legislators of both parties agree that the money should be spent on transformational items.
"We don't want to spend this on things where five or 10 years down the road, we look around and say we have nothing to show for it," he said. "We should all be looking at doing something unique in our state, but there's also a lot of responsibility in that."
In addition to the budget, Riley said he hopes to see progress on several other priorities as well, including changes to the initiative petition process used to amend the state Constitution.
"There is value in the initiative petition process, but the issue is how easy it is to change the state constitution," he said. "The state of Missouri has the third-longest constitution of any state in the country. We're only a medium size state, so we shouldn't have that much in our constitution."
Rep. Riley has prioritized reducing regulations that make it difficult for businesses to operate and thrive in Missouri and improving the state's economic, workforce and legal climate, while identifying opportunities to address current workforce challenges.
"When you have people that do want to work and aren't working, that's an issue," he said, noting the specific issue of lack of available childcare. "I have no silver bullet on how to get people back into the workforce. There are a number of factors, like making sure we have a good business climate, and we're also looking at what we can do at the legislative level to remove barriers."