Encouraging YPs to impact their community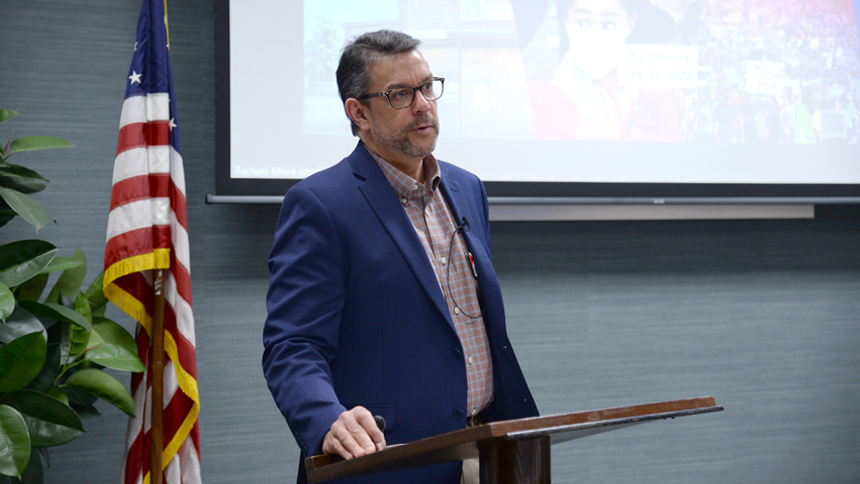 On February 16, The Network for Springfield's Young Professionals held the first event in its 2022 civic engagement series.
YPs were joined by Dr. Jonathan Groves, facilitator of the Community Focus Report. Dr. Groves presented on the 2021 report, including the major blue ribbons and red flags throughout the community.
He began his presentation by thanking the community partners that supported this initiative - the United Way of the Ozarks, Community Foundation of the Ozarks, Junior League of Springfield, Springfield-Greene County Library District, and Springfield Area Chamber of Commerce - as well as the 100 volunteers that participated in steering committees and data analysis.
The goal of this conversation, as stated by Dr. Groves, was to "spark something in you individually so that you will look at this and say, 'What can I contribute to this community, what do I do well, and where can I use my strengths to make a difference in the community?'"
The 2021 Community Focus Report is structured differently from previous reports, as the entire piece is seen through the lens of community health in response to the ongoing efforts related to the COVID-19 pandemic. He also took a moment and asked the attendees to join him in applauding health care workers for their dedication over the past two years.
Some of the blue ribbons emphasized in the presentation included low rates of unemployment, the strength of health care infrastructure, placemaking efforts, and collaboration. In contrast, the red flags identified in the presentation included the increase in cost-burdened housing, lack of diversity and inclusion, and child abuse and neglect.
Dr. Groves expressed that a key to leveraging the community's blue ribbons and addressing red flags is collaboration - collective action that emerges when community members and organizations work together to solve problems.
Lastly, Dr. Groves shared one final message of encouragement to young professionals, as the future leaders of the community, to find something that are passionate about, see what organizations are already working towards that goal, and identify where they can have a direct impact.