Learning from new leaders for the new year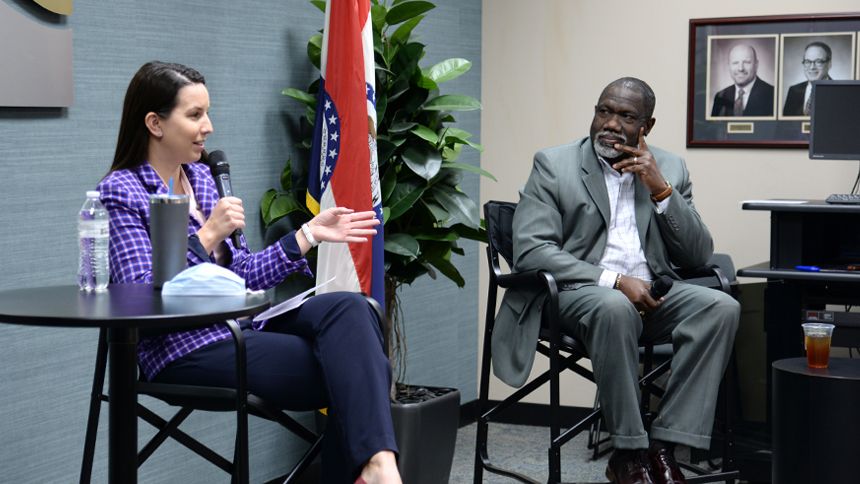 On January 20, The Network for Springfield's Young Professionals hosted its annual New Year, New Leaders event to kick off the year, featuring an interview with Chamber Board Chairman John Oke-Thomas and Dee King, Committee Chair for The Network in 2022.
To begin the program, Mark Harrington, founder and CEO of Old Missouri Bank – The Network's annual program presenting sponsor since 2017 – talked about his organization's belief in the mission of The Network and the importance of investing in YPs in the Springfield community.
The interview with John and Dee was facilitated by Bryant Young, The Network's 2022 Committee Vice-Chair. Bryant's questions focused on allowing YPs to get to know Dee and John on a personal level, learn from their professional journeys, and understand what motivates their community involvement.
John, president of Oke-Thomas + Associates, explained his professional journey – not only in his career of architecture, but also his journey to the U.S. and, ultimately, to Springfield.
Dee shared that the best piece of professional advice she has ever received was in her previous career in banking. She expressed how vulnerability can be pivotal to transformative career growth.
Dee also identified her favorite thing about being a YP in Springfield. "If you are willing, as a young professional, to not only pour yourself into your job, but work to help the community as a whole, this community and it's leadership will rise up to meet you and take you wherever it is that you want to go," she said.
She continued by pointing out YPs who are making great strides in the Springfield community, and 5 years ago were not in the significant leadership positions they have today: Heather Hardinger and Matthew Simpson on Springfield City Council, Danielle Kincaid on the Springfield R-12 Board of Education, Brandy Harris as CEO of Boys & Girls Clubs of Springfield, State Representatives Crystal Quade, Betsy Fogle and Alex Riley, and Logan Aguirre as publisher of 417 Magazine.
John shared his philosophy for engaging with young professionals in the Springfield community. He explained that his goal is to help YPs understand that "whatever environment you are in, you need to make the best of it because building relationships is one of the best ways to make life better for yourself and advance yourself in the process." He said this belief was one of the reasons that Minorities in Business (now Multicultural Business Association) was founded in Springfield.
Ultimately, the event was a great way for The Network to start 2022 and left our young professionals feeling encouraged and empowered to share the story of why Springfield is the place to be for them!