Non-profits discuss ongoing workforce challenges
Organizations of all sizes and sectors face immense staffing concerns as they struggle to find, attract, recruit and retain employees. Members of the Chamber's Non-Profit Roundtable discussed these challenges and more during 2021's final Non-Profit Roundtable on December 14.
Members heard from four community leaders with different perspectives and roles related to employment within their organizations. Karen Shannon with Ollis/Akers/Arney Insurance & Business Advisors, Ryan Kluttz with Paddio, Nancy Riggs with Penmac Staffing Services, and Chamber President Matt Morrow provided insights and best practices to help non-profits navigate the current hiring landscape.
The chair of the roundtable, Community Foundation of the Ozarks President Brian Fogle, set the scene for the current workforce challenges by highlighting job data from the end of the year.
In December, there were 11 million U.S. jobs openings, but only 6.9 million people officially unemployed. In addition, over 5 million people have left the workforce since February 2020. These numbers have contributed to the difficult workforce situation facing most employers.
People leaving the workforce continues to be a major issue. Shannon, who works to establish and support hiring strategies at different organizations, said the biggest challenge she sees for employers is sourcing employees. "Organizations are going to have to be innovative in building a pipeline of talent," she said.
Shannon encouraged nonprofits to be proactive in their recruitment strategies. She said her organization has seen success in reaching out to candidates who were not actively considering switching jobs but are believed to be a great fit for the open position in question. She also suggested focusing on engaging with current employees, being flexible, providing career progression options, and communicating frequently with your workforce.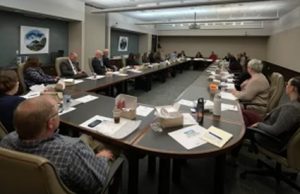 Employee communication is a major piece of Paddio's strong organizational culture, which Kluttz plays a major role in leading. Paddio has been rapidly growing since opening their doors in Springfield over a year ago and have quickly gained a reputation for being an employer of choice in the community.
"Culture is our retention play," Kluttz said. "And our number one lead source for candidates is our own employees."
Specifically, their culture is focused on three guiding principles: vision, autonomy and connection. "We want to focus on maintaining deep relations and open dialogue with and between employees," Kluttz explained.
He noted their culture, mission and values are similar to talent attraction strategies used within non-profit organizations.
Chamber President Morrow knows well about the different recruitment struggles non-profits face, especially when competing with the private sector on wages. However, pay is not always the biggest motivating factor for those in the non-profit world. He encouraged organizations to convey the importance of their mission, and to examine unique benefits non-profits can offer.
He also asked attendees to consider the "hidden worker" phenomenon. A study published by the Harvard Business School notes that up to 27 million people want to work, and are actively seeking work, but are not being found by hiring organizations for a multitude of reasons.
Riggs helps organizations find candidates interested in working through Penmac's staffing support, including for non-profits. She has an intentional focus on interviewing every candidate that applies through her organization to determine their interests and best fit for them.
"We need to meet people where they are and be flexible," Riggs said. "Non-profits have to figure out what unique values they offer, and celebrate those in every communication, job posting, and broadly in the community."