Collaborating to support entrepreneurship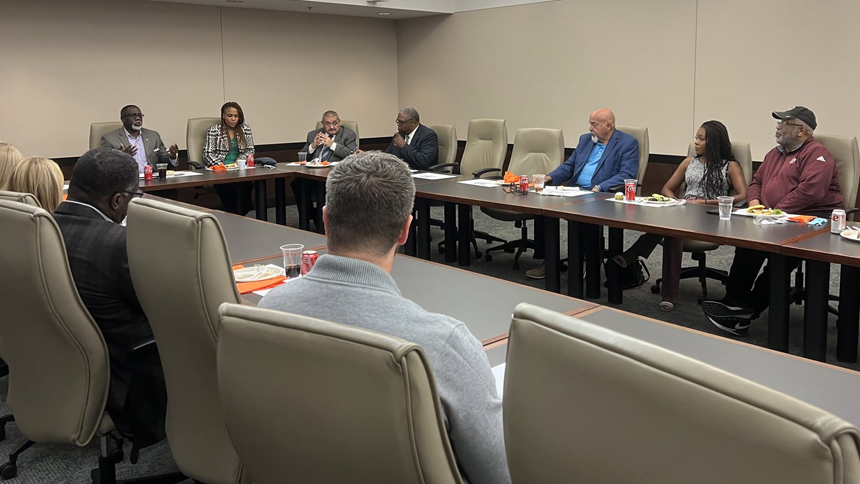 Members of the Chamber's Board of Directors connected with board members from the Multicultural Business Association (MBA), formerly Minorities in Business, for a roundtable conversation between the leadership of the two business organizations on November 30. The discussion followed the appointment of Darline Mabins as the new MBA executive director and the organization's recent name change.
Twelve years ago, community leaders John Oke-Thomas, Wes Pratt and Lyle Foster founded the organization to support minority-owned businesses in Springfield and ensure this sector of the business community would have the support needed to not only survive but thrive.
"If minority-owned businesses do not survive, no other businesses will survive," Oke-Thomas said.
Oke-Thomas has a unique connection to both the Chamber and the MBA, as Oke-Thomas will start his role as the Chamber Board Chairman in 2022.
"The goal is not that one side gets something and the other does not," Oke-Thomas explained. "The goal is making the pie bigger so we can all be a part of the prosperity that Springfield has to offer."
For Mabins, who started this role in early July, not only is Springfield a better community when diversity and inclusivity is greater, but there is a clear business case for these efforts, especially as it relates to growing our workforce.
"When we're more diverse and inclusive, Springfield becomes the community people want to come to and what other cities want to be like," Mabins said.
The MBA has worked to provide access to this prosperity through networking, workforce development, and training opportunities for minority businesses in the community, and plans to expand on these efforts with Darline Mabins at the helm.
Mabins commended the work of the organization over the last several years and highlighted the rationale behind the recent name change and MBA's long-term vision.
"Our mission and vision are still the same," Mabins said. "But because we value inclusive excellence, the board wanted to remove any potential roadblocks so people will see our name and know they're included."
MBA founding members commended the Chamber for efforts to support diversity, equity and inclusion in the community, including establishment of the Facing Racism Institute, a takeaway from the Community Leadership Visit to Grand Rapids, Michigan in 2009.
Both Chamber and MBA board members discussed ways to continue collaborative efforts as ultimately, a key mission of both organizations is to promote business opportunities for the Springfield region.  The group discussed the exciting momentum in Springfield, as the community is on the cusp of numerous projects and continues to be a top community for businesses and entrepreneurs.  Additionally, the need to recruit and retain talent was discussed as a key priority for both organizations.
Thank you to the luncheon sponsor Oke-Thomas + Associates!