Speaker-elect discusses his history and his outlook for the legislature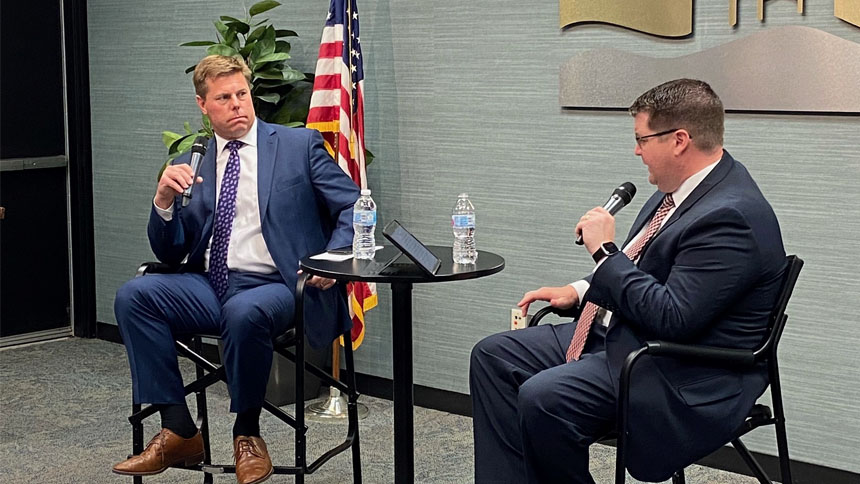 State Rep. Dean Plocher was elected to the Missouri House to represent part of St. Louis County – but as he said during his visit to the Chamber as part of the Public Policy Speaker Series on October 21, he represents all the people of Missouri, be they the Republican majority who voted for him and his party or the 40 percent of Missourians who voted for Democratic candidates in the last election.
"I don't run as just being from St. Louis," he said. "I vote for my district, of course, but also on behalf of 6 million Missourians. People think we're this super conservative state – and in many ways we are – but 40 percent of people didn't vote for me. I represent them too, and we have to work together."
That desire to work across the aisle is part of the reason Plocher was chosen by his caucus to serve as majority floor leader in the House and as speaker-elect beginning in 2023.
Plocher said he has learned a great deal from Springfieldian and previous House Speaker Elijah Haahr; he added that there are many other lessons that the state can learn from the Springfield area as well, including what he believes is the prudent approach to governance.
This includes reducing redundancy of government and the burden of government overreach, which to Plocher only stifles responsible development of what people actually want.
The speaker-elect said that his decision to run for the House in a 2015 special election was partly to pursue a new career; he had served previously as a prosecutor and later as municipal judge for the state's 21st Judicial Circuit. But it was also driven by a desire to work on policy issues. It's an approach he takes seriously as bills are presented to the House.
As for what issues he expects to come to the floor for consideration in the coming legislative session, Plocher said the fact that 2022 is an election year will make the session more challenging. But one issue he hopes will come up is the process to amend the state Constitution.
"I simply advocate that we move to a two-thirds majority requirement for constitutional changes," he said. "We're ingraining things into our state constitution using the same threshold as statutory issues; I mean, we have rules about bingo in the constitution. "We're often very boxed in on what we can and can't do and it's hard to explain why. Our constitution shouldn't be wantonly changed so easily."