Listening to small businesses about pandemic struggles, solutions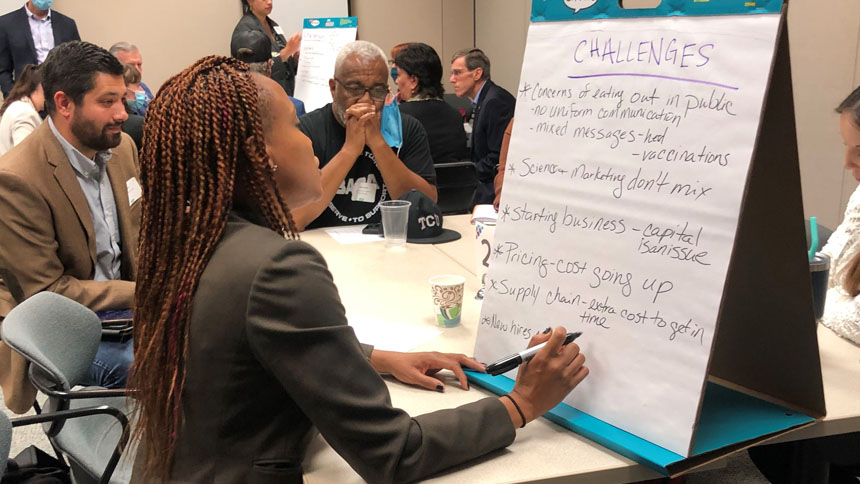 Springfield small businesses were able to share feedback on challenges they have faced as well as what role the state can play to support small business recovery during the Springfield stop of the Show Me Strong Recovery Listening Session held October 14 at the Chamber.
The Show Me Strong Task Force was created by Gov. Mike Parson in response to the pandemic to learn how small business owners have operated their business during the pandemic and ask for ways the state can better support recovery. The Missouri Department of Economic Development (DED) has held seven sessions around the state, with Springfield serving as the final stop before the feedback is compiled.
A diverse range of industries were represented, including construction, retail, food service, fitness facilities, development, and more. Paul Eisenstein, deputy director of strategy and performance division for DED, noted that in every county in Missouri, 92 percent of total businesses are considered small businesses.
Overall, the ongoing workforce shortage continued to be a top issue facing employers. The issue is driven by a number of factors, including difficulty finding qualified workers, employee retention and attraction issues, a lack of training options, and wage competition and challenges with childcare. Supply chain delays also were a major problem facing several small business owners in attendance.
Suggestions included enhancing the education-to-workforce pipeline, increasing talent attraction efforts, working collaboratively to invest in solutions, making state resources easier to access, reducing regulatory burdens, providing additional training opportunities, and addressing barriers to entering the workforce.
DED plans to compile the information gathered from all the listening sessions for presentation to Governor Parson to better determine the type of support small businesses need as they continue to recover from the COVID-19 pandemic.