State rep focuses on infrastructure, referendum reform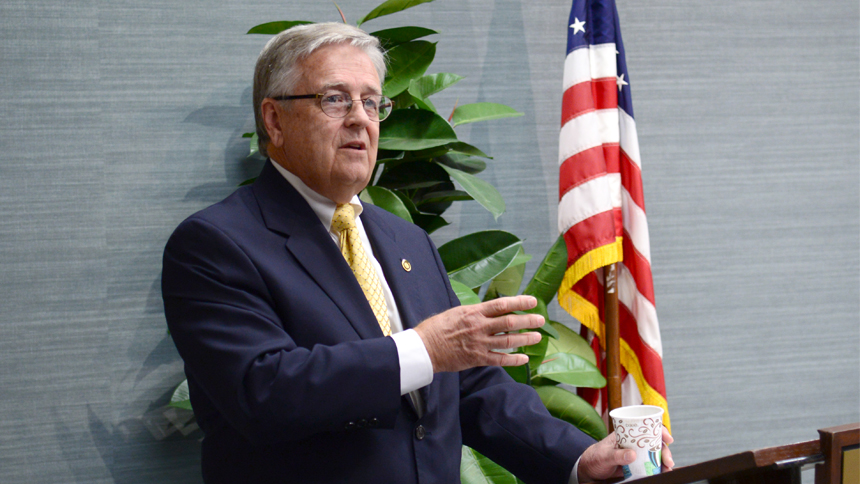 State Representative Bill Owen has a unique history in the state legislature.
The lawmaker from northern Greene County is in his second term in the Missouri House of Representatives, which started in 2021. His first term was from 1981 to 1982, followed by a long career in banking in our area.
His decision to go back into state-level politics after his retirement was, he joked, driven in large part by his wife. "'You need to find something to do or you're going to drive me crazy,'" he told the group in attendance at the Sept. 28 meeting of the Chamber's Governmental Relations Committee.
Owen offered his insight into the accomplishments made during the 2021 legislative session. Three specific items he highlighted were the new gas tax, enacting an online sales tax, and COVID liability protection for businesses.
He noted that the gas tax was a unique approach based on a law passed in South Carolina. But, he added, the fact that the bill includes the ability to claim refunds on the increased tax allowed it to pass, because it's a similar approach to what the state has offered to farmers and boaters for years.
Owen also commended the legislature for their ability to quickly pass COVID liability protections for businesses. "Everyone came together and said we need protection for businesses that are doing everything they're supposed to be doing. Both bodies came together with the governor and said this is something we can pass quickly."
As far as the upcoming session is concerned, the representative said he wants to focus on moving forward reforms to the referendum petition process. He pointed to the need for better vetting of proposed ballot language. "People have tried to circumvent the normal legislative process," he said. "I think there needs to be a higher standard if you're going to change the state constitution."
He also wants to focus on funding for rural broadband infrastructure, as high-speed Internet access has moved from being a luxury to being a fundamentally needed utility.
Rep. Owen also commended Springfield city leaders – especially Councilman Richard Ollis – for their work setting up mechanisms like the Restore SGF program to renovate existing housing stock in the city's established neighborhoods into affordable homes.
"Restore SGF is a community priority in my book," he said.