Safely recognizing and honoring our first responders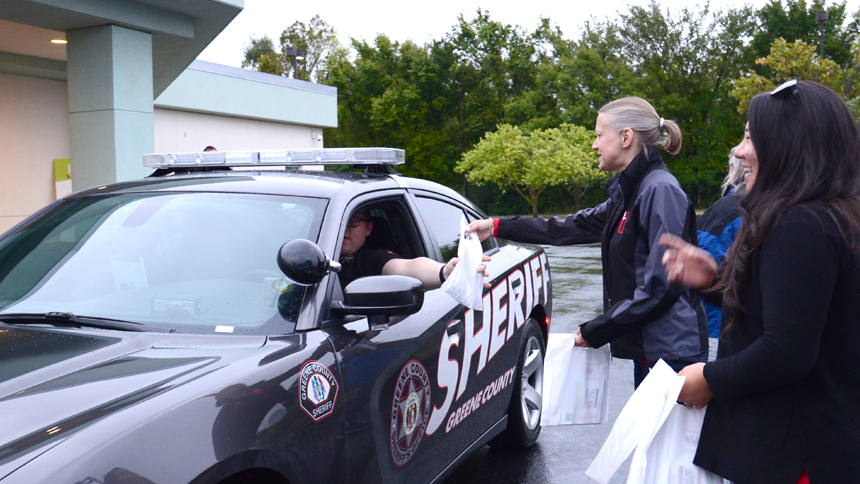 We all know that our first responders – police, firefighters, EMTs, health care workers – are vital to the quality of life and continued economic growth of our community. And with all the change in our world in recent months and years, their efforts have become even more crucial to our health and safety.
The Chamber and the business community took the opportunity to show our appreciation and gratitude on September 21 with our annual First Responders Appreciation breakfast event. It was a way to say thank you for all the contributions these hard-working individuals make to the Springfield region every day.
"There's a lot of work that goes into making Springfield the most thriving, quality place to live in the Midwest, and our first responders are a huge part of that vision," said Logan Aguirre, publisher of 417 Magazine and 2021 chair of the Chamber's Board of Directors. "They're on the front line every day, always focused on keeping our community safe and healthy. Thank you for all you do to make our community such a great place to live, work, learn and play."
The 2021 edition of the event was structured somewhat differently, as the Oasis Hotel & Convention Center facilitated a "drive-through" breakfast for first responders in our area. It was a safe and delicious way to recognize their work and say thank you.
Members of the business community also had the chance to participate in video thank you messages to these vital individuals in our community.
"We're very fortunate to have our first responders working as a team like they do in Springfield, working together to keep us safe and healthy and keep our businesses moving forward," said Rick Hughlett, owner of Rick's Automotive, which was the presenting sponsor for the event. "I just want to say a huge thank you to our first responders and what they do for us."
The contributions of first responders were not lost on other members of the Springfield community, either, as noted by Dan Reiter, general manager of the Springfield Cardinals.
"People might not realize that we couldn't have Springfield Cardinals games and other large-scale events without the firefighters, the EMTs, Greene County Sheriffs and Springfield Police Department, and of course the dispatchers," he said. "So from all of us that love to have events downtown and love to go to ballgames, thank you!"
And now you have the opportunity to sponsor first responders attending the updated 2022 First Responders Appreciation event at a Springfield Cardinals game. If your organization is interested in being a supporting sponsor by covering the cost for 10 first responders to attend this celebratory event next year, send us a message!