Connecting young professionals with area non-profits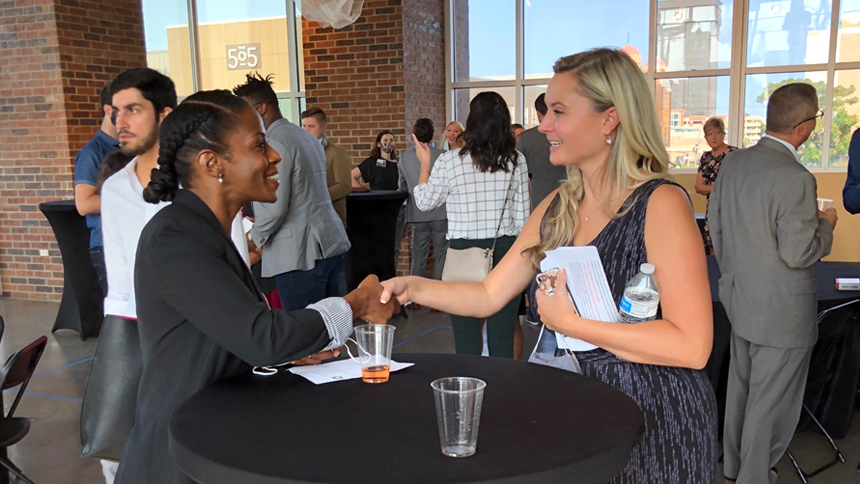 One area where the Network for Young Professionals is always looking to help its members is in getting connected to the community. That includes the community's non-profit organizations.
That's why The Network held a Non-Profit Reception on August 31. The event, held at the Discovery Center, was an opportunity for YPs to hear from representatives of several area non-profit organizations. Groups represented at the event included:
A Girl Like Me Network
American Red Cross of Southern Missouri
Boys & Girls Clubs of Springfield
Breast Cancer Foundation of the Ozarks
Club Blue
Council of Churches of the Ozarks
Court Appointed Special Advocates
Community Blood Center of the Ozarks
FosterAdopt Connect
Foundation for Springfield Public Schools
The Geek Foundation
Hospice Foundation of the Ozarks
Isabel's House
James River Basin Partnership
The Kitchen
Springfield Regional Arts Council
United Way of the Ozarks
Attendees heard a brief presentation from Brian Fogle, president of the Community Foundation of the Ozarks. He talked about the importance of being connected to the community, and of doing what you love.
"Choose a life that matters," he said, "and pay attention to what matters most."
Anyone interested in getting more involved with volunteer opportunities in our community can visit The Network's website to learn more.