Nonprofits learn about local funding options through Non-Profit Roundtable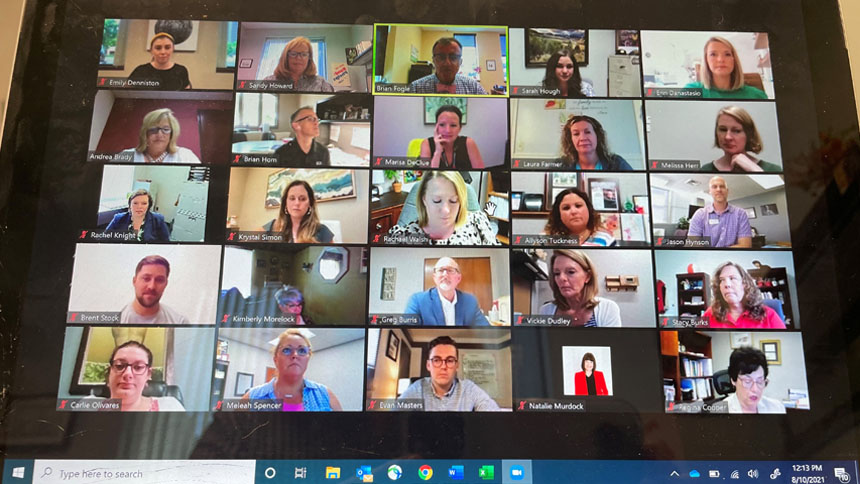 Chamber non-profit members had the opportunity to connect with local funding organizations during the most recent meeting of the Non-Profit Roundtable.
The Non-Profit Roundtable comprises over 90 executives from non-profit Chamber members and meets three times a year to hear timely programming updates. They also engage in peer-to-peer sharing and discussions to highlight successes, challenges and trends in the non-profit community.
The first meeting of 2021 centered around how the COVID-19 pandemic has changed the way non-profits think about and accomplish traditional fundraising efforts, as hosting in-person events has become increasingly challenging or no longer feasible. As fundraising events are a large source of revenue for both non-profit programming and overhead costs, connecting non-profits to local funding opportunities is more critical than ever.
Led by Community Foundation of the Ozarks President and CEO Brian Fogle, August's meeting focused on connecting non-profits to three local-area funders to discuss these types of funding opportunities and efforts. Sarah Hough with Bass Pro Shops, Erin Danastasio with the Hatch Foundation and Andrea Brady with Great Southern Bank each play a key role at their respective organizations in funding local projects and supporting the nonprofit community.
There isn't a specific formula for what types of projects these organizations might fund. While some organizations are looking for sponsorship benefits and name recognition, these three said they want to provide funding to programs with achievable and tangible outcomes.
Hough, Bass Pro's senior manager of community affairs and diversity outreach, works to develop the company's philanthropic giving strategy, oversees strategic partnerships, and manages national partnerships and grant programs. She said Bass Pro Shops encourages people to "enjoy, love and conserve" the outdoors, but having a healthy community is important to them as well.
As the Community Outreach and Development Manager for Great Southern Bank, Brady focuses on growing and managing community partnerships and working with organizations in the non-profit and for-profit sector.
Great Southern looks to four community pillars when considering their giving philosophy: education, health and human services, community and economic development, and arts and culture.
The Hatch Foundation works to nurture a sense of community through innovative solutions meant to enrich quality of life through an impact-driven evaluation model. Their goal is to strengthen our community and empower our neighborhoods through placemaking efforts. As executive director, Danastasio helps this family foundation focus on enhancing what Springfield has to offer.
The speakers advised against creating a program just to fit into the mission of the organization you might be trying to attain funds from. In addition, all three said that COVID-19 related funding support does not necessarily affect funding requests, as they understand the needs of non-profits are always great.
When considering outcomes of funding asks, Bass Pro focuses on outcomes that would address challenges, or "red flags," noted in the Community Focus Report. This yearly report was first created in 2002 after Springfield and Greene County leaders from several sectors assessed and reported on the community's assets, gaps, opportunities and challenges.
Brady encouraged non-profits to be transparent and share updates with funders about program outcomes, successes and challenges. Funders want to know where and how their dollars are being utilized, even if that means collaborating on ways to address challenges.