Lieutenant governor offers a look at his background and goals for the future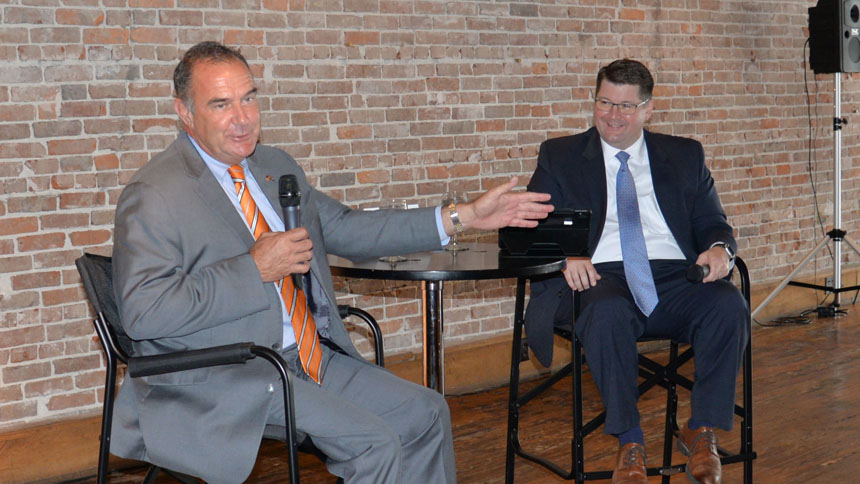 Lieutenant Governor Mike Kehoe gave Chamber members insight into his life, legislative priorities, future goals and more during the Public Policy Speaker Series held on August 20.
The lieutenant governor said he didn't start out with any political ambitions, nor was he ever expecting to be asked to serve in his current role. He grew up as the oldest of six children in a single-parent household, which compelled him to begin working at a young age and instilled in him a strong work ethic.
A small businessman at heart, he operated a car dealership in Jefferson City, where he was approached by then-Governor Matt Blunt to serve on the Highways and Transportation Commission.
Through this appointment, he began visiting the Capitol building more to listen to debate, speak with lawmakers and testify on bills. His policy interest was sparked when he realized he could provide a needed business perspective in that "big stone building."
He was ultimately elected to represent the Sixth Senatorial District in 2010 and was appointed to serve as Missouri's 48th Lieutenant Governor on June 18, 2018, by Governor Mike Parson. He was re-elected by voters in November 2020.
Kehoe specifically noted the importance of private sector engagement in the legislative process. He said that in addition to leading him to his current position, this direct communication is crucial to illustrate challenges, needs and how policy impacts constituents.
The 2021 legislative session saw the passage of several policies that will have a positive impact on the business community, both regionally and statewide, including enacting an online sales tax, passing COVID-19 liability protections, and creating a long-term funding source for transportation infrastructure investment.
Kehoe has been a key advocate for transportation funding throughout his time in office.
"This funding will make a big different to MoDOT, a big difference to transportation infrastructure funding, and will keep Missouri in the sweet spot as the distribution center of the nation," he said.
As the lieutenant governor, Kehoe presides over the state Senate. While each session presents different issues and priorities, managing different personalities is always a part of this job. However, Kehoe knows that even if others have different values than him, that doesn't stop him from working to find consensus.
"95 percent of the things we do in the building, we can find common ground on," Kehoe said.
Part of the process is learning to manage expectations throughout the entire legislative process – and for Kehoe, trying to do what is best for the state.
"You find consensus, build coalitions, and move forward to get to the best outcome," he said. "Leadership is about making hard decisions, but as long as you're up front, transparent, and manage expectations on both sides, you can navigate difficult decisions. But it's never easy."
The COVID-19 pandemic continues to require state leadership as cases are surging due to the Delta variant and vaccine hesitancy. Although the state's economy is bouncing back, several key industries, like tourism, are still seeing negative impacts.
Kehoe noted that while getting vaccinated is a personal decision, he will continue to encourage people to speak with their healthcare provider to consider vaccination against COVID-19.
As he looks to the future, the lieutenant governor said he wants additional focus on broadband investment and expansion, addressing workforce shortages, attracting and retain new and existing businesses, and continuing to grow the Buy Missouri Initiative, which promotes products made in Missouri with over 450 business members.
An additional future consideration is his intention to run for governor in 2024.
"I don't think I deserve it, nor do I think it's my destiny, but I do feel I have a unique view on how to continue moving Missouri forward," Kehoe said. "I want to continue to give back to a state that's given so much to me."
Kehoe is proud of the life he's worked for, including his role in public office, his wife Claudia and four children, his strong faith, and even being a first-generation farmer.
After growing up knowing the value of business and hard work, Kehoe believes the biggest opportunity for Missouri is the number of people who want to do the right thing and succeed, and he hopes this will grow.
"The resources we have are incredible," Kehoe concluded. "Missourians are proud people, and the opportunities are endless for this state."
---
Thank you to Series Presenting Sponsor Kutak Rock and Seasonal Gold Sponsor Southwest Missouri Council of Governments!