A journey toward a job making lives better for children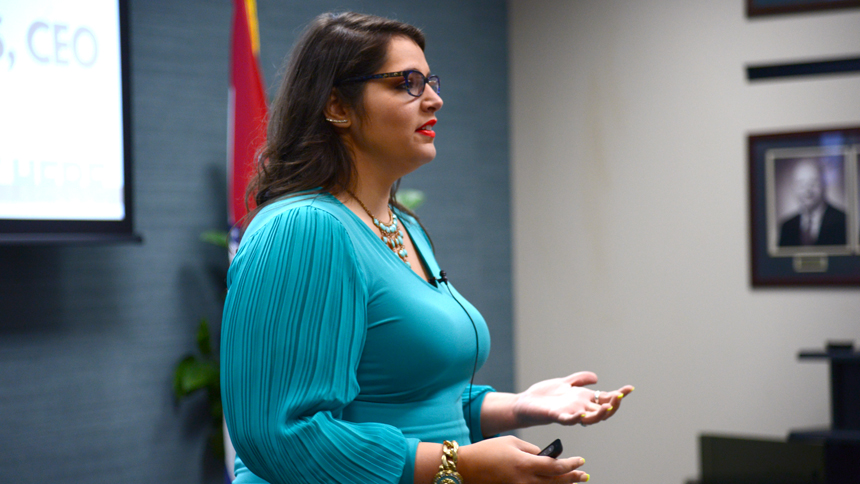 If you listen to Brandy Harris talk for even just a few minutes, both her passion and dedication to helping kids becomes obvious.
She puts her full heart and effort into every project she takes on – whether it's serving as the CEO of the Boys & Girls Clubs of Springfield during one of the most difficult times in the organization's history or talking to The Network for Young Professionals on August 17 about her personal and professional journey.
Brandy was the featured speaker for the latest edition of The Network's CEO Series, where she opened up about her own experiences and how they led her to be so committed to the Boys & Girls Clubs mission, as well as what led her to be named the youngest CEO of a major metro branch of the organization in 2019.
One reason that she connects so easily with the kids she serves, she said, is that she understands their circumstances. Brandy moved around a lot as a kid, attending nearly a dozen different schools before her family landed in Springfield when she was in eighth grade.
After graduating from Hillcrest High School and then Drury University with a degree in Speech Communication, she started as a speech and debate teacher at Hillcrest. But when she and husband Spencer moved to Lawrence, Kansas so that he could attend graduate school at the University of Kansas, she was unable to find another teaching job – and that period of unemployment prompted her to take a job as a paraprofessional at the Boys & Girls Clubs of Lawrence.
It was that fateful decision that led her to the organization. And when she and Spencer moved back to Springfield, she had advanced enough that she was hired as the Henderson Unit's Program Director. Brandy continued to advance in the Springfield organization and put her name in to the CEO search that began when Pat Gartland retired in 2019.
She was chosen from among 100 applicants for that position, and she said she didn't expect to be selected – but she was determined to leave each interview during the process with no regrets and to "leave everything on the table."
That was just some of the advice Brandy offered for the YPs in attendance. She also talked about the difficulties she encountered in her first few months on the job, including pushback from long-time supporters about her selection.
She recounted one story of a call from someone who said he was withdrawing his financial support for the clubs because a woman was put in charge. That led to one important piece of advice: "Not all money is good money, and not all support is good support."
Among her other words of wisdom:
If you are the smartest person in the room, find another room.
Be the best at the job you have and encourage others to do the same.
Find a circle of people in whom you can place your trust.
Always put mission over ego.