A highly successful legislative session concludes in Jefferson City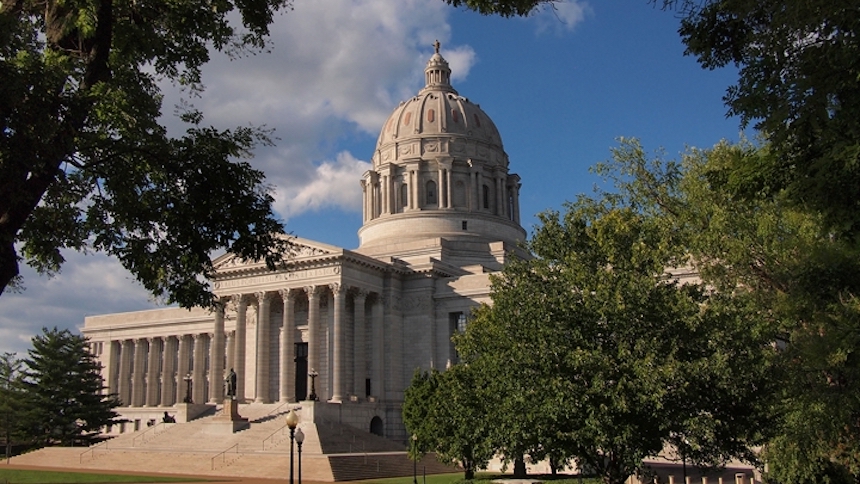 When the 2021 legislative session concluded on May 14, it had ultimately proved to be a successful year for several long-term business community priorities.
Throughout the session, the Chamber advocated for several member-driven, board approved legislative priorities through written testimony, member outreach, in-person meetings, and virtual events. Here is a look at some of the significant achievements made on several long-standing priorities.
Online Sales Tax (Wayfair)
A proposal enacting a mechanism to collect online sales tax crossed the finish line after several years of advocacy efforts and negotiations among lawmakers. SB 153, sponsored by Sen. Andrew Koenig, allows for the collection of a use tax on sellers without a physical presence in Missouri. This will help create fairness for local brick and mortar businesses and also includes several income tax cut triggers to begin in 2024.
Investment in Infrastructure
SB 262, sponsored by Senate President Pro Tem Dave Schatz, crossed several hurdles this year and was sent to Governor Parson for approval. This bill will increase the gas tax by 2.5 cents, each year, for five years to provide additional funding for critical improvements and maintenance of the state's transportation system. It also includes an increase in fees on electric vehicles. This is the first increase in the state's gas tax since the early 1990s.
This bill also includes a process for users to collect a refund of the increased tax amount.
COVID-19 Liability Protections
SB 51, sponsored by Sen. Tony Luetkemeyer, passed on the final day of session. It included liability protections against frivolous COVID-19 related civil actions for businesses, organizations, healthcare providers, and PPE manufacturers – a top priority for both the business community and Governor Parson.
Prescription Drug Monitoring Program (PDMP)
SB 63, sponsored by Sen. Holly Rehder, was signed by Governor Parson on June 7 after many years of work. Missouri was the final state to implement a centralized, statewide PDMP, which will assist in addressing the opioid crisis.
Hand-Up Program
HB 432, sponsored by Rep. Hannah Kelly, received final approval near the end of session. This legislation addresses several health and childcare related provisions, including reinstating the Hand-Up pilot program in Greene County. This program was championed by Rep. Crystal Quade and will help address the childcare subsidy "cliff effect" by ensuring participants continue to receive transitional child care benefits when their income surpasses the eligibility level for full benefits to continue. In addition, this will assist in the process of adding and retaining workers, which will help to address ongoing workforce shortage.
Apprenticeships
SB 297, sponsored by Rep. Wayne Wallingford, includes a provision to boost apprenticeships by allowing the state's 529 savings plan to be used for apprenticeship expenses. The bill also establishes a statewide plan that will enhance career and technical education in the state, expanding access to employment-focused training in high school.
FY22 Budget
Funding approved by the legislature for Fiscal Year 2022 includes key appropriations for several southwest Missouri institutions and critical programs, including many Chamber priorities:
Missouri State University

$3.5M core increase
$1.8M for the Cybersecurity Center of Excellence, Jordan Valley Innovation Center
$4M for the Darr Agricultural Center
$1M for a welding lab on the West Plains campus

Ozarks Technical Community College

$2.6M core increase
$5M for the Center for Advanced Manufacturing
$1.8M for deferred maintenance

$3M for the Missouri Technology Corporation
Fully funded K-12 Foundation Formula
$10M for broadband expansion
Increased funding for scholarship programs like A+ and Bright Flight
$6M for the Fast Track Workforce Incentive Grant
The complete budget still requires final approval from Governor Parson.
Unsuccessful legislation
While many issues made it through the legislature, several important items did not make it across the finish line this session. One is enabling legislation to allow Springfieldians to vote on an increase to the transient guest tax to support tourism efforts.
The legislature did not include funding to implement Medicaid expansion, approved by Missouri voters in August 2020. The program was originally set to open to the newly eligible population on July 1, 2021; legal matters related to the lack of funding and this upcoming eligibility are currently pending.
The Chamber is grateful for the service of the southwest Missouri delegation, and we appreciate the engagement of Chamber members in advocacy efforts, including directly contacting lawmakers and participating in advocacy days.