ATHENA: Honoring leaders who advocate for others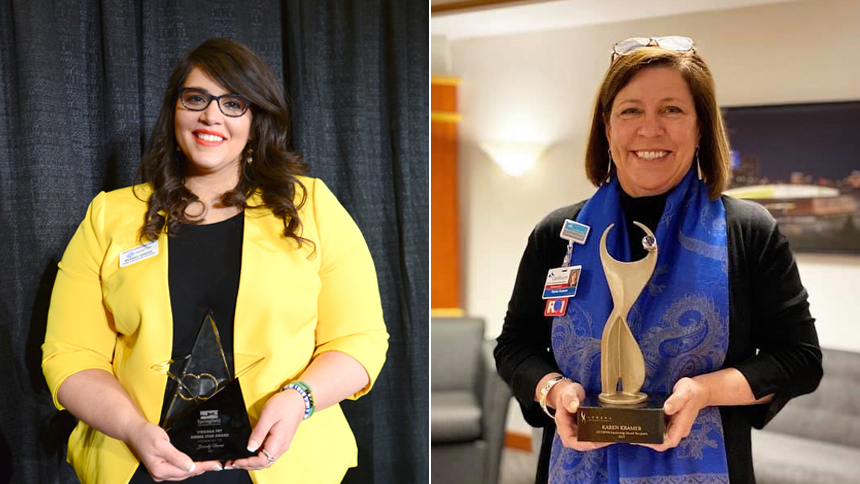 The fourth annual ATHENA Award program, held on March 3 at the White River Conference Center, may have looked and felt different than in past years for obvious reasons, but the recipients were no less deserving – and no less grateful for the recognition of their efforts.
The whole event had an air of celebration. It was one of the first events with any sizable number of people attending in-person, though the group gathered at the White River Conference Center was capped at a significantly lower number than in previous years for safety reasons. Many more watched the event streamed live online.
And all the previous ATHENA Award recipients – Jan Fisk, Morey Mechlin and Francine Pratt – as well as the inaugural recipient of the Virginia Fry Rising Star Award, Ashley Norgard, participated in the program, adding to the celebratory feeling of the day.
The beginning of the program featured the presentation of the second annual Virginia Fry Rising Star Award, given to a young professional woman who is already making a difference in the community for herself and other women. The award is named for attorney and community visionary Virginia Fry – a woman known for her willingness to guide and mentor others through their professional and personal journey.
This year's recipient, Boys and Girls Clubs CEO Brandy Harris, talked about the doubt she faced from others – to the point that she considered resigning early in her tenure – and the importance of having a network of support.
"Every person in here – especially those of us who identify as women or are from underrepresented populations – have experienced similar things: frustration, stress, lack of conviction, overwhelming doubt," she said. "Every woman leader that I talk to, I ask them what helps them get through these moments, and it is overwhelmingly a trusted support system; people who believe in you, who have the difficult conversations with you and tell you that you need to get it together, and people who share their experiences so you feel understood and less alone. People like Virginia Fry."
Following the Rising Star Award presentation, attendees heard from keynote speaker Saehee Duran, lead pastor of Life360 Intercultural Church. She spoke of how both honorees are pioneers in the community, how they embody selfless leadership, bring contagious passion to their positions, and lead with excellence – and she eloquently summed up how both Harris and ATHENA Award honoree Karen Kramer achieve that excellence.
"Aristotle once said, 'Excellence is never an accident,'" she said. "'It is always the result of high intention, sincere effort, and intelligent execution; it represents the wise choice of many alternatives. Choice, not chance, determines your destiny.'"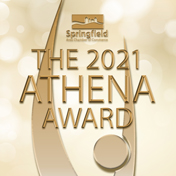 But the culmination of the event was the presentation of the ATHENA Award.
One of the criteria guiding the independent panel that chose the ATHENA Award recipient was that the honoree must be someone who "improves the quality of life for others in the community." Perhaps no recipient better embodies that quality than Kramer, the senior vice president and chief hospital officer for CoxHealth.
She spoke of how Athena was often depicted with an olive tree, known for its incredible longevity and durability – qualities she sees in the women leaders of our community.
"The olive tree is known ... for its hearty root system that can survive dry climates and rocky soil. This is like many of you, who have been a part of establishing a strong root system for our community. Your work creates an interconnected web of support that sustains us and allows us to grow and thrive."
Kramer has served the hospital system in a variety of roles for more than 30 years, but her current job is the most high-profile and is making possibly the most obvious impact; Kramer serves as CoxHealth's COVID-19 incident commander, managing the health system's treatment of those afflicted with the illness and its handling of vaccinations for thousands in the community.
But despite that work, she was quick to share the credit.
"I believe that the circumstances of the year called for leadership from each and every person at CoxHealth, from whatever seat or role they had," she said, "and I was so fortunate to be in a role where I was surrounded by individuals who bravely and tirelessly met the challenges of the pandemic."