Chamber leaders discuss legislative priorities with lawmakers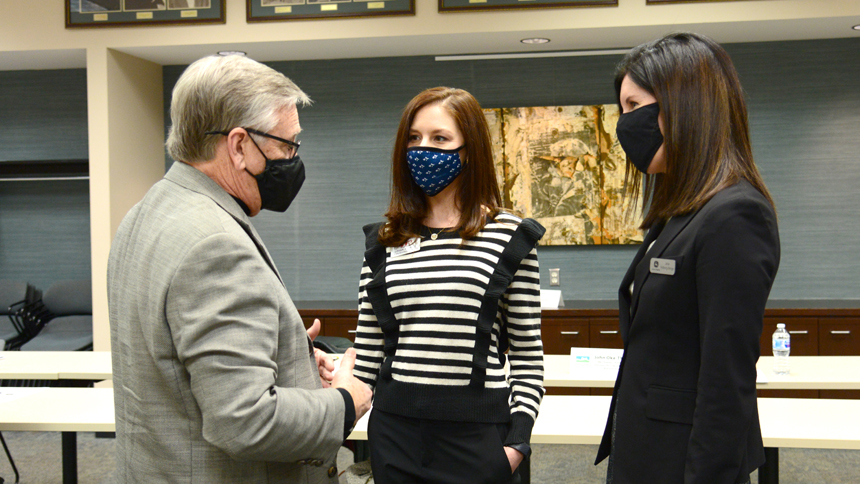 Coming off of an unprecedented legislative year – and heading into a year that is also shaping up to be out of the ordinary – the Chamber tried to keep at least one aspect of its yearly advocacy effort somewhat traditional: the annual meeting with area legislators.
This year's event, held on January 22, brought together selected members of the Chamber's Board of Directors and state lawmakers from southwest Missouri to talk about business community priorities for this year's legislative session. While the event looked and felt a bit different – with social distancing and masks – it continued a long-standing tradition of business leaders thanking legislators for their service and advocating for important issues.
Board Chairman Logan Aguirre, 417, thanked the legislators for their efforts in the 2020 session, including their work to pass enabling legislation for a convention center and early childhood funding, even though those bills were eventually vetoed for unrelated reasons, as well as tort reform and their support for workforce development programs and expanded access to broadband Internet.
"These were important accomplishments, especially in a hard year, and the business community thanks you," she said. "I know as lawmakers, many times you only hear when people are unhappy, so it's important to us that we express our gratitude."
The process to develop the Chamber's legislative priorities is member-driven. Brian Hammons, Hammons Products Co., served as the 2020 chairman of the Legislative Policy Committee and spoke to that effort.
"We solicit input from our members, work with key industry leaders, and interact with our partners in the region – all in hopes of better understanding the issues that affect the ability of our members to grow their businesses," Hammons said. "The most important part of our work is that it is member-driven. Members bring new issues to consider, members vet the issues and members approve the issues."
Board members covered several business priorities for the upcoming session:
Christina Angle, Erlen Group talked about the importance of liability protections for businesses related to the coronavirus pandemic in three areas: safe harbor protections for businesses that followed health and safety guidelines, protections for frontline healthcare workers for reasonable efforts to preserve public health, and manufacturing and products liability, especially for businesses that stepped in to help produce PPE during the pandemic.

"We hope there can be protection for good faith actors that followed guidelines in all of these categories," Angle said. "We believe this will be an important element of economic recovery for the entire state. And strong economic recovery benefits businesses, employees and our entire community."

Nancy Riggs, Penmac Staffing Services, and Jena Holtberg-Benge, John-Deere Reman, discussed the need for continued support of workforce development programs, such as Missouri One Start and Fast Track, as well as K-12 and higher education.

"Workforce has been a top priority of the Chamber for years, and you have made great progress in this area," Riggs said. "We encourage you to keep thinking creatively and strategically about how we invest in our workforce in order to support businesses and individuals."

Board members also discussed the need for continued progress toward a solution on transportation and infrastructure funding, as well as an Internet sales tax that is not accompanied by a corresponding tax cut to harm state revenues.
Lawmakers continue to show their appreciation for the outreach, and they offered updates on where some of these priorities stand in the legislature.
Sen. Lincoln Hough expressed his support for the Internet sales tax as well as for COVID business liability. Overall, he said southwest Missouri is uniquely successful as a region at the state level – in part because of the efforts of the region's businesses.
"As legislators, we can only do what we do because of the support in the community," he said. "We know we all have to be flexible moving forward, but we know we have the Chamber and businesses to lean on, to know what they need."
Rep. Craig Fishel highlighted progress on enabling legislation in both the House and Senate; he also noted that there are multiple Internet sales tax proposals being considered.
If you'd like to know more about the Chamber's legislative priorities for 2021, we encourage you to read our State Legislative Agenda and Federal Legislative Agenda.