Announcing the recipients of the 2021 ATHENA & Virginia Fry Rising Star Awards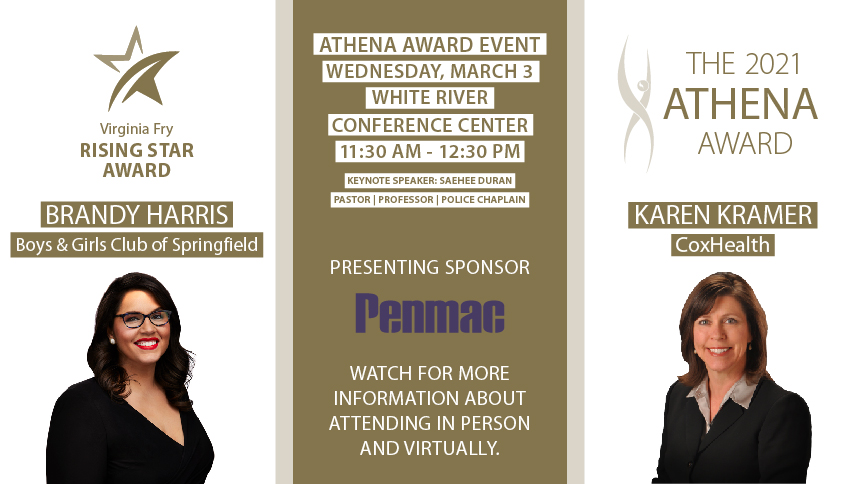 Two luminaries in the Springfield community will be honored at the Springfield Area Chamber of Commerce's 2021 ATHENA Award ceremony on March 3.
Karen Kramer has been selected as the recipient of the 2021 ATHENA Award. Kramer is senior vice president and chief hospital officer for the Springfield Hospital Group of CoxHealth, where she is responsible for day-to-day operations at all the Springfield CoxHealth hospitals. She has more than 32 years' experience with the health system and has been, in the system's own words, "the driving force behind some of the most important patient care and quality advancements in the system." This includes serving as CoxHealth's COVID-19 incident commander. She has received numerous professional accolades, including being named one of Springfield Business Journal's (SBJ) "Most Influential Women" in 2004.
The ATHENA award is intended to honor exceptional professionals and leaders, thus inspiring others to achieve excellence in their professional and personal lives. Award recipients will be individuals who have not only attained professional excellence and served the community, but also those who have actively assisted women in their achievement of professional excellence and leadership skills. They also will have contributed their time and energy to improving quality of life for others in the community.
Brandy Harris has been selected as the recipient of the Virginia Fry Rising Star Award, which is named after the late Virginia Fry, a pioneer in the legal profession and a beacon in the Springfield community. This award honors an emerging leader and mentor in their chosen profession and in the community - someone age 40 or younger who is already beginning to light the way for women leaders.
As CEO of Boys & Girls Club of Springfield, Harris is already making a remarkable impact in the community. She has worked with the Springfield organization since 2013, previously serving as a unit director and as Director of Programs before being named CEO in early 2019. She also served in similar roles with the Boys & Girls Club in Lawrence, Kansas. She is a member of the Mayor's Commission for Children, the CoxHealth Young Professionals Council and the Chamber's Legislative Policy Committee, and she has also been honored as a member of SBJ's "40 Under 40" and Biz 417's "10 for the Next 10."
Both recipients were nominated by the public and selected from among dozens of nominees by an independent panel of judges.
"While there were numerous strong candidates, the two women selected as honorees this year are incredible examples of all the criteria for these awards," said Chamber President Matt Morrow. "It is a thrill to recognize them for their efforts, and I will be truly excited to honor them on March 3."
The award ceremonies will take place during a midday event at the White River Conference Center, which will also be streamed online for virtual viewing. Visit our online calendar for more information about the event.