The Network celebrates a new year and new leaders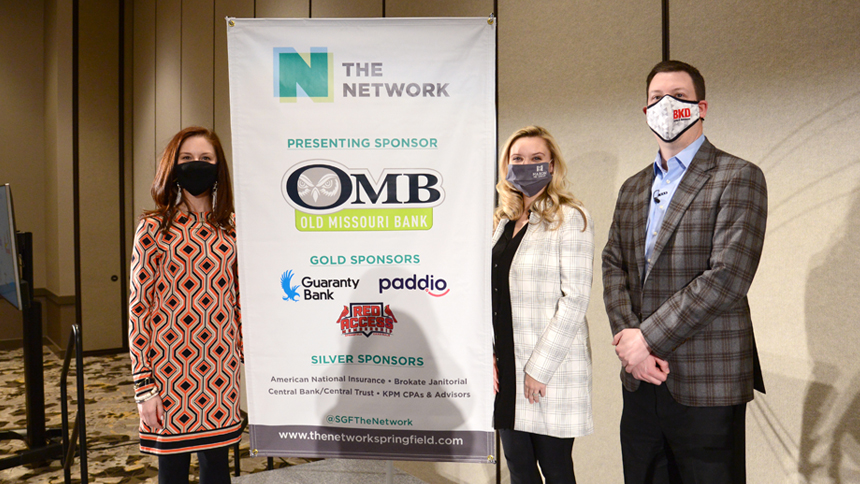 The Network kicked off the new year by hosting its annual New Year, New Leaders event on January 14. Members got the chance to hear from the new Chair of the Chamber's Board of Directors and the Committee Chair of The Network.
This year, the group watching in person at DoubleTree Hotel and watching online welcomed Logan Aguirre of 417 and Jessica Harmison Olson with Maxon Fine Jewelry. They told members about their background, lessons they have learned, what they love about our community, what we can look forward to in 2021 as they lead us and more.
This year's event reaffirmed that both the Chamber and The Network are in good hands with these two leading the way. And, as was mentioned during the event, 2021 also marks the first time in the Chamber's history that women are serving as board chairs in back-to-back years, so Network members were grateful to be part of that exciting moment!
Here were some of the top takeaways from the event:
Both leaders talked about their New Year's resolutions. Jessica wants to improve her public speaking skills, while Logan know it's going to be a busy year, so taking care of herself and ensuring she's in a good headspace will be critical.
When asked what advice they've received in the past that has impacted them, Logan shared this: "Do what you said you would do." Jessica shared something her grandpa always told her: "Proper prior planning prevents poor performance!"
As we look to this new year, both leaders have a few things they want to focus on for the Chamber and The Network. Logan would like to see area businesses be able to shift from "surviving to thriving" so that, when it's safe to do so, our area economy can continue the momentum it had before the pandemic. Meanwhile, 2020 was a positive year for The Network despite all the adversity, so Jessica wants to build on that strength by working to help the community retain as many YPs as possible.
When asked about what excites them about the future, both pointed to anything connected with placemaking – but specifically the energy around the city's Forward SGF initiative.
Overall, both are optimistic that 2021 is going to be a great year, and they're looking forward to helping both groups accomplish even greater things moving ahead!
If you missed the event, or want to see it again, check out the video on The Network's website!