A chance to speak with the Speaker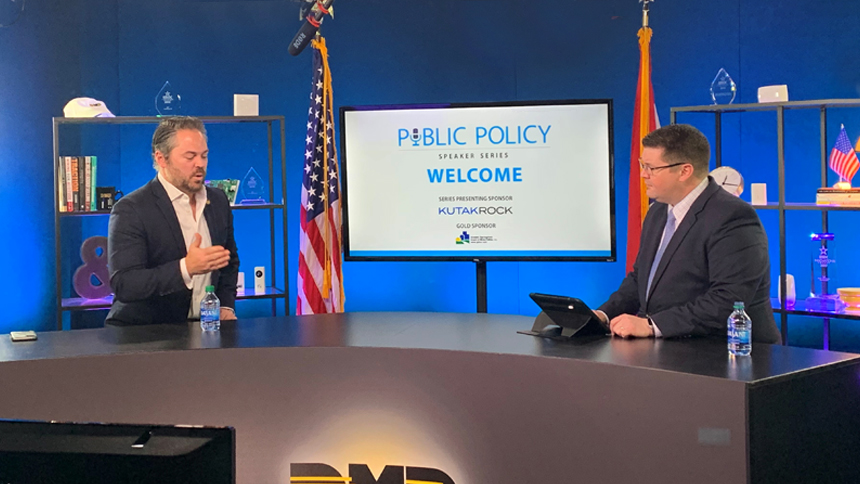 The Chamber's 2020 Public Policy Speaker Series had its final installment on Dec. 15 in a conversation with a Springfield-area political leader whose time in state-level politics is also coming to an end, at least for now.
Elijah Haahr, who has served as the Speaker of the Missouri House of Representatives since the end of 2018, is leaving the House due to term limits after representing the south-central Springfield in Jefferson City for the last eight years.
Haahr joined Chamber President Matt Morrow for a live-streamed interview to discuss a range of topics, from his thoughts on leadership style and the importance of teamwork to what he sees as the legislature's biggest recent accomplishments.
When the state redrew its legislative district lines following the 2010 Census, Haahr found himself in a new state House district – District 134 – and decided that 2012 would be the time to run for office. Following successes in a competitive Republican primary and in the general election, he and his fellow freshman House members took the customary bus tour of the state.
"Because of the term limits, people were already jockeying – talking about, 'Who's going to end up as budget chair? Who's going to end up as Speaker?'" Haahr said. "I'd never worked at the Capitol and I didn't know the value of that, but you realize that from Day One, with 50-some people in the freshman class, a lot of them are looking at that as the potential final goal."
Haahr, of course, was able to successfully achieve that goal of becoming Speaker in October 2018, when Rep. Todd Richardson was appointed director of MO HealthNet by Gov. Mike Parson and left the Speaker's chair.
In that new leadership role, Haahr said he formed a lot of new relationships from all over the state – relationships that proved invaluable in passing key legislative items in 2018 and 2019 focused on issues like workforce development, a bonding package to fund infrastructure improvements, and improved funding for Missouri State University and Haahr's alma mater, Ozarks Technical Community College and its Center for Advanced Manufacturing – which is already drawing attention from other parts of the state.
"All of a sudden, after the groundbreaking, OTC has been hearing every other community college in the state saying, 'Hey, we want one of these too,'" Haahr said. "They can immediately see the value it would bring to businesses in their community."
One of the keys to getting those priorities passed, Haahr said, was taking a more "bottom-up" approach to the Speaker role, as opposed to an approach where the Speaker sets the full legislative agenda for the entire caucus throughout the legislative session.
"There's an aspect of teamwork; if you want your items passed, you have to help other folks get their items passed, too," he said. "You see a lot more buy-in from everyone – we're a team. We saw so many policy bills reach the finish line because of that."
He added that even with the COVID-related challenges of the 2020 session, "we still came back with three weeks left and got a lot across the line because of our great caucus approach."
Thank you to our sponsors:


If you missed the interview or want to see it again, check out the video below!