Announcing Chamber leadership for 2021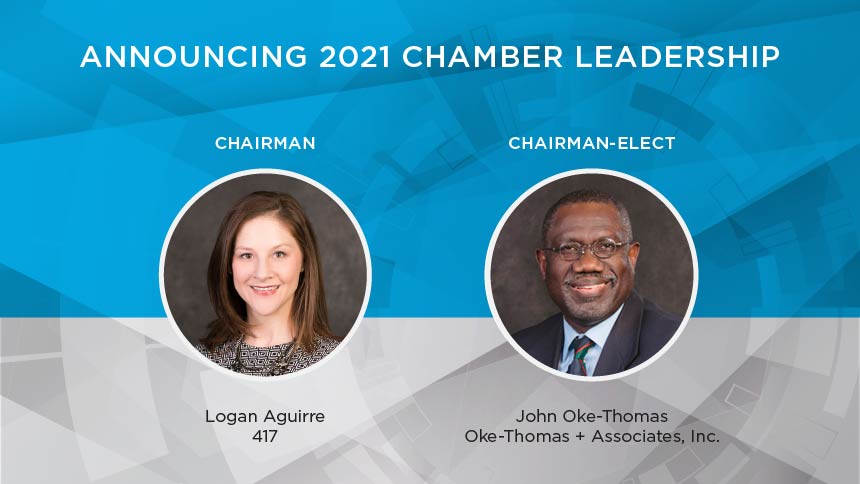 The Springfield Area Chamber of Commerce is pleased to announce the new members of its Board of Directors for 2021. These seven board members will serve three-year terms on the board, having been nominated by the Directors Nominating Committee earlier this fall and submitted to the general membership for approval.
The new board members are:
Andrea Brady, Great Southern Bank
Trevor Crist, Nixon & Lindstrom Insurance
Brian Hammons, Hammons Products Co.
Beth Harville, Drury University
Bob Helm, Elliott, Robinson & Company, LLP CPAs
Nancy Riggs, Penmac Staffing Services
Bryan Wade, Husch Blackwell, LLP
They are joined by Maria Matamoro of French's Food Company, who joined the board during 2020 to complete a vacated three-year term.
In addition, the chair of the Springfield Business Development Corporation, Jena Holtberg-Benge of John Deere Reman*, will serve a one-year term on the board, as will the chair of The Network for Young Professionals, Jessica Harmison-Olson of Maxon's Fine Jewelry.
Incoming Board Chair Logan Aguirre has also selected the following individuals to serve one-year board posts in 2021:
Ken McClure, City of Springfield (ex officio)
Hal Higdon, Ozarks Technical Community College (ex officio)
Bob Dixon, Greene County (ex officio)
Chris Jarratt, Revel Advertising (one-year appointment)
Sally Hargis, Ozarks Coca-Cola/Dr Pepper Bottling Co. (one-year appointment)
The Chamber also is proud to announce its Executive Committee for the coming year. These volunteer leaders, as selected by the Officers Nominating Committee and approved by the board, will fill top leadership roles on the board for 2021:
Chairman: Logan Aguirre, 417
Chairman-Elect: John Oke-Thomas, Oke-Thomas + Associates
Treasurer: Christina Angle, Erlen Group
Assistant Treasurer: Brent Hubbard, Mercy Hospital Springfield Communities
Vice Chair, Economic Development: Joselyn Baldner, Central Bank of the Ozarks
Vice Chair, Public Affairs: David Raney, CoxHealth
Vice Chair, Membership: Nancy Riggs, Penmac Staffing Services, Inc.
Vice Chair, Workforce Development: Krisi Schell, SRC Holdings Corp.
"This year's leadership group demonstrates an incredible depth and breadth of insights and experience," said Chamber President Matt Morrow. "I am eager to begin working with them and excited for what the future holds for the Chamber."
* Pending approval by the SBDC board in December