A look at what drives regional manufacturing growth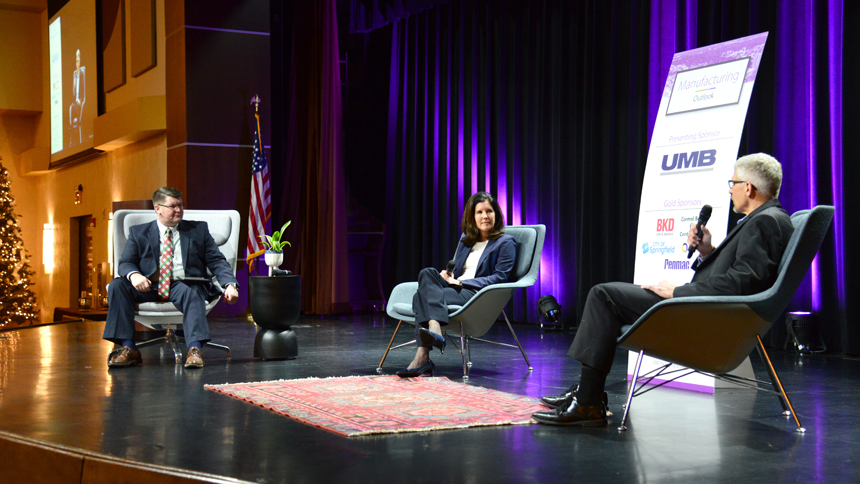 The Manufacturing Outlook – presented virtually by the Chamber's economic development arm, the SBDC, on December 3 from the Oasis Hotel & Convention Center – offered a wide-ranging look at the trends in the manufacturing industry, along with the process that businesses use when deciding where to relocate or expand.
Chamber Senior Vice President of Economic Development Ryan Mooney interviewed Josh Bays, partner with corporate site selection firm Site Selection Group. Bays focuses on the firm's industrial practice, and the two talked about what goes into the site selection process and the specific trends that consultants are seeing industry-wide.
Click here to watch the full interview with Josh Bays from Site Selection Group!
We also heard from representatives from Buckhorn and Vital Farms. In addition to being two important manufacturers in our area, they also have something else in common: They're both headquartered in other parts of the country but have chosen to locate significant manufacturing operations in the Springfield region. They took a few minutes to tell us why.
Watch the video from Buckhorn here, or the video from Vital Farms here!
And we concluded with a panel discussion with two leaders in our organization: Bill Hammitt of Amprod Holdings and Jena Holtberg-Benge of John Deere Reman. Hammitt serves as SBDC Board President in 2020 while Holtberg-Benge serves as the Board Vice-President. They offered their thoughts on a range of topics, from industry trends to what the future holds for manufacturing nationwide and locally.
This informative and timely event would not have been possible without the support of numerous sponsors, including our Presenting Sponsor, UMB Bank, and our Gold Sponsors: BKD CPAs & Advisors, the City of Springfield, Central Bank/Central Trust Company, Ollis/Akers/Arney Insurance & Business Advisors, and Penmac Staffing Services, Inc.
If you missed the event or want to watch it again, check out the video below!