Finalists announced for 2020 Small Business Award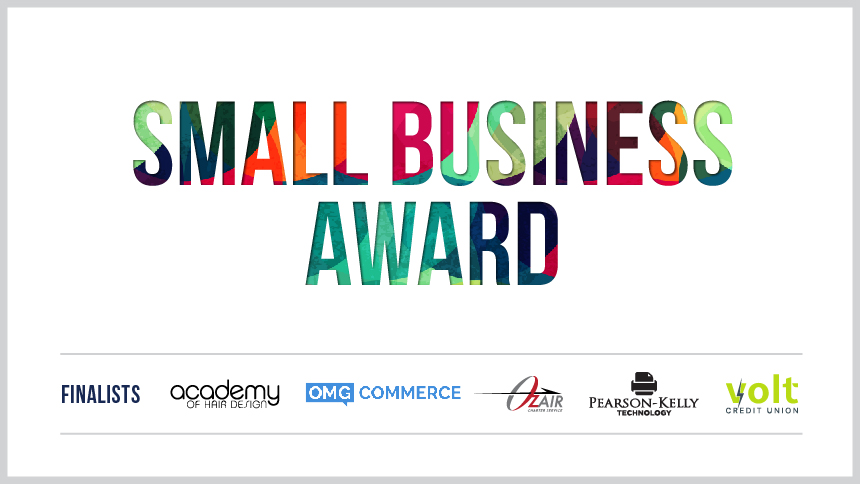 Five area businesses have been named as finalists for the 2020 Small Business Award. The finalists were determined based on written applications that include essays on company history, management philosophy, responses to challenges, innovation in product and service offerings and contributions to the community. Entries are scored by an independent panel of judges.
This year's finalists, in alphabetical order, are:
Academy of Hair Design, Inc., founded in 1996, trains and prepares professionals for the beauty and barbering industry. They offer training in barbering, cosmetology, esthetics and manicuring, and operate a full-service salon with services performed by students.
Burgess Aircraft Management, LLC (dba Ozair Charter Service) was established in 2007 to provide jet charter service from Springfield. The company operates a fleet of nine jets and flies anywhere in the continental U.S., Alaska, Canada, Mexico and the Caribbean.
Local Marketing Giant, LLC (dba OMG Commerce), has positioned itself as a thought leader in the eCommerce industry. Since being founded in 2010, OMG Commerce has grown from a focus on Google Maps optimization to advertising for companies with Google, YouTube and Amazon.
Pearson-Kelly Technology, founded in 2002, has grown and expanded its focus over the years from print and copier sales to holistic technology consulting, sales and service. They also now act as a managed service provider and offer IT solutions for clients.
Volt Credit Union was originally founded in 1935 as the Springfield MFA Employees Credit Union. It has expanded its service area and changed names a few times over the years, most recently being called Community Financial Credit Union before rebranding as Volt in June 2018.
The announcement of the finalists was delayed due to the ongoing coronavirus pandemic. The five companies will be featured during the Chamber's Good Morning, Springfield! event, which will be presented virtually on November 5. They'll be celebrated officially during the Chamber's Small Business Award event on November 11, being presented virtually from the Oasis Hotel & Convention Center, which culminates with the announcement of the 2020 W. Curtis Strube Small Business Award recipient. The presenting sponsor of this year's event is Biz 417.
More than 80 percent of Chamber members are businesses with 50 or fewer employees – one of many indicators of how crucial small businesses' success is to the area's ongoing success.
"Small businesses have always been vital to our economy, and that's never been truer than it is right now," said Chamber President Matt Morrow. "These companies are amazing examples of the resilience of the people who keep these small businesses going through all kinds of adversity, and we're thrilled to be able to honor them."