YPs discuss making a difference in the community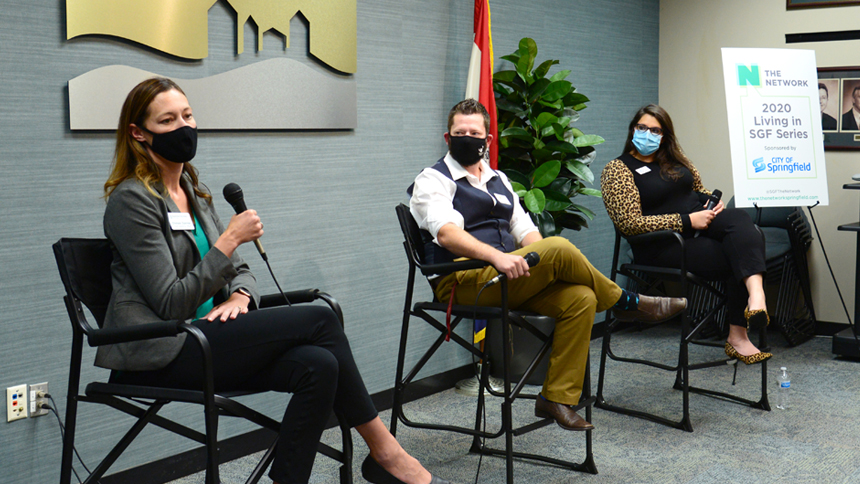 Even in the midst of COVID-19 – or perhaps even more so because of COVID-19 – Springfield-area young professionals want to know how they can make an impact.
A recent survey of members of The Network for Young Professionals found that they wanted to learn more about opportunities to volunteer in their community. So on September 17, the group's Living in SGF series sat down with three non-profit leaders to discuss making a difference both during and after the pandemic.
While there are numerous worthwhile not-for-profit organizations in our area, for this event members heard from Rob Blevins of The Discovery Center, Brandy Harris with Boys & Girls Club of Springfield, and Chelsea Dykman from Big Brothers Big Sisters of the Ozarks.
Their main message: Although things don't look as they always have, it is important to continue giving back to our community … something these non-profit leaders have done by example.
Here were some of the top takeaways from the event:
While non-profit organizations have had to pivots multiple times during the pandemic, they have also had the opportunity to think outside the box and come up with innovative solutions.
They have continued to fulfill their missions and found an even deeper appreciation for what they do.
They wouldn't want to go through COVID-19 in any other community; they have seen the collaborative spirit in Springfield now more than ever.
Not having enough time is no excuse to not volunteer – everyone needs to make giving back a priority if we want our community to be a better place.
Find a non-profit that allows you to pursue your passion. Make it work in your schedule. And be changed!
Springfield is fortunate to have so many great organizations you can volunteer with, and this event highlighted just a few.
If you want to see a video recording of the virtual version of this event, it's available on The Network website.