Looking ahead in a time of uncertainty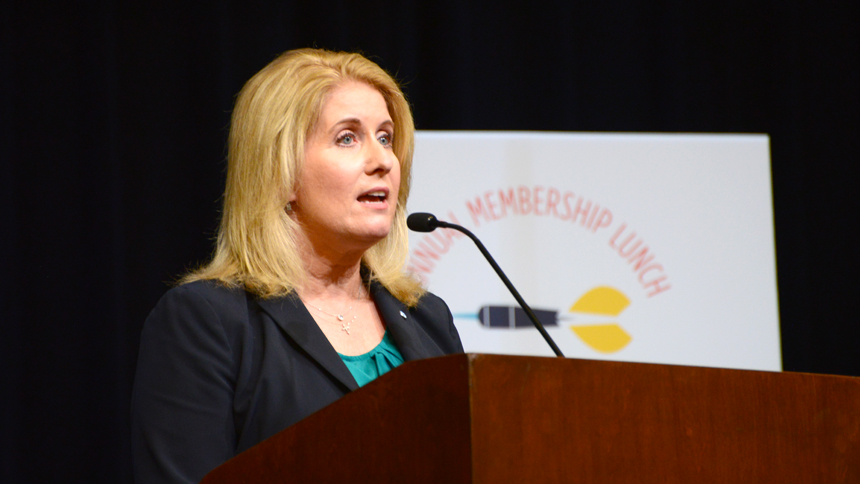 Amidst all the converging issues in our society – health risks, economic hardships, social upheaval and reckoning – it would be easy to grow pessimistic ... especially at an event like the Annual Membership Lunch, which this year was held virtually on August 13.
But Chamber leaders wanted to take the opportunity to not only reflect on the issues our community has already been through but also look at what the future could hold, in a way that is both positive and realistic. As writer William Arthur Ward said,
"The pessimist complains about the wind; the optimist expects it to change; the realist adjusts the sails."
So the event, streamed live from the Oasis Hotel & Convention Center, focused on how our business community has adjusted its sails to stay afloat thus far in 2020, and what we can do to ensure that when the tide inevitably rises, it lifts all boats in the months to come.
Members got to see a new flyer demonstrating how the Chamber has helped support them throughout the pandemic. It also touches on successful efforts in advocacy and economic development thus far in 2020, such as passage of tort reform and licensing reciprocity legislation, as well as the announcement that Kraft Heinz will be investing $48 million over five years to expand its Springfield facility.
Chamber Board Chairman Robin Robeson continued that theme, noting that Chamber staff have made more than 1,600 direct interactions with members during the pandemic to answer questions, gather feedback and check on the well-being of their organization and employees.
She also offered her thanks to members for their continued resilience and hard work.
"Amidst what has sometimes been a negative and divisive climate, you've continued to focus on supporting your employees, preserving jobs, and meeting the needs of your customers - all while working to comply with evolving, multiple layers of regulation to keep everyone safe," she said. "I am so proud of you and the example you've set."
And Robeson offered her outlook for the future, which she said can be bright if we work hard and focus on positioning our community for economic recovery once the pandemic has passed.
"We must listen to one another and lean into the unique collaborative spirit this community is built on, the spirit that truly makes us the very best version of ourselves," she said. "We have a lot to look forward to."
One thing Chamber members can look forward to is the upcoming Reach Campaign, and members got to hear from the chairman of the 2020 effort: Bob Hammerschmidt of Commerce Bank. He noted that Commerce makes its largest community development investment each year in the Chamber because of our advocacy work, our focus on workforce development, our educational and networking opportunities, and our continued efforts to create high-paying jobs.
"We believe our company will do no better than the community we serve," he said. "That is why Commerce Bank supports the Chamber, and I'll bet all of you feel the same way."
But while Chamber staff and volunteer leadership took the opportunity to recap the year and look ahead, the Annual Membership Lunch is always focused on being a show of thanks for members' support. This year, as Chamber President Matt Morrow noted, that feeling of thankfulness goes even deeper.
"We're going to come out of this together, and stronger than before," he said. "And someday soon, when we're able to gather together in person again, we'll celebrate our continued collaboration and friendship – and our newfound strength."
---
Missed out on seeing the event? Check out the recording below!