Maintaining The Network's access to key leaders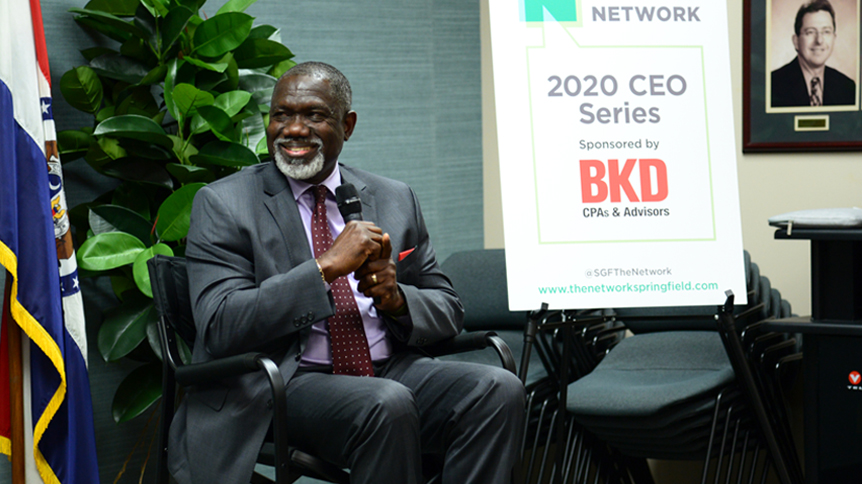 The Network is always looking for opportunities to connect Springfield young professionals to other young professionals, as well as to key leaders in the community. One way to maintain that access is through the quarterly CEO Series – The Network chair interviews a local CEO, who shares about their background, lessons they have learned and more.
In August, the group had the opportunity to get to know John Oke-Thomas, president of construction management and architecture firm Oke-Thomas + Associates.
John is originally from Nigeria but has lived in several places including France and Italy. He discovered Springfield when he attended Drury University to get his degree in architecture, and thankfully his family ultimately chose to call 417-land home.
Here are a few of the highlights of what the YPs learned from him:
On why he chose Springfield – and why he started his own firm
As John spent more time in Springfield, he realized it is a great place to raise kids, the cost of living is lower and it was a good compromise for he and his wife, who is originally from Memphis. When it came to starting his own firm, John said, "it has always been a dream of mine to own my own business." He worked for another firm in Los Angeles but had to wake up at 4 a.m. just to arrive by 8 a.m., so having a shorter commute time was appealing.
What he wishes he had known when he started his business
John had many opportunities to learn throughout his career and had several pieces of advice to share. "Don't think you know everything and don't think you have to know everything," he said. "Your profession is a journey."
He also talked about the importance of working with others. "Don't be afraid to ask for help; even if you don't think you need it, just ask," he said. "There is a lot to learn from others."
The changes he has made during the pandemic
John and his team have always emphasized the importance of being adaptable. After going through the 2008 recession, they knew they always had to be ready to make changes. So right now, that means they can't travel as much for work, site visits are more difficult and meeting with clients face-to-face has been challenging.
On his passion for service, specifically with the Chamber and in public affairs
John is very engaged with the Chamber and the community as a whole. He helped start Minorities in Business and currently serves on the Chamber Board as Vice Chairman of Public Affairs. He said he learned a lesson early in his career: Regardless of what you do or where you live, giving back is critical. "You are leaving a legacy for yourself and for those coming behind you," he said. "It is vitally important to make an impact and help others."
When it comes to his engagement in public affairs, John said he wants to ensure all voices are heard and can participate in shaping our community. He wants the voice of minorities to be amplified, and he is proud of how the Chamber has led in this area.
Who he turns to for advice and guidance
John said he asks many people for guidance, but one person he frequently turns to for advice is Dr. Lyle Foster. John, Lyle and Wes Pratt co-founded Minorities in Business, so they have shared passions and continually work to ensure all voices are heard. At a global level, John said he looks up to Nelson Mandela. He said mentors have taught him "to create a society that is attentive to all people and not just a section of it."
Listening to John talk about his career, the lessons he has learned and why he is passionate about giving back were inspiring, as were his parting words: "Wherever you are, make a contribution to the community to make it better. We will rise together and fall together."
A video of the entire event is available on The Network's website!