The Network gets a peek into the Chamber process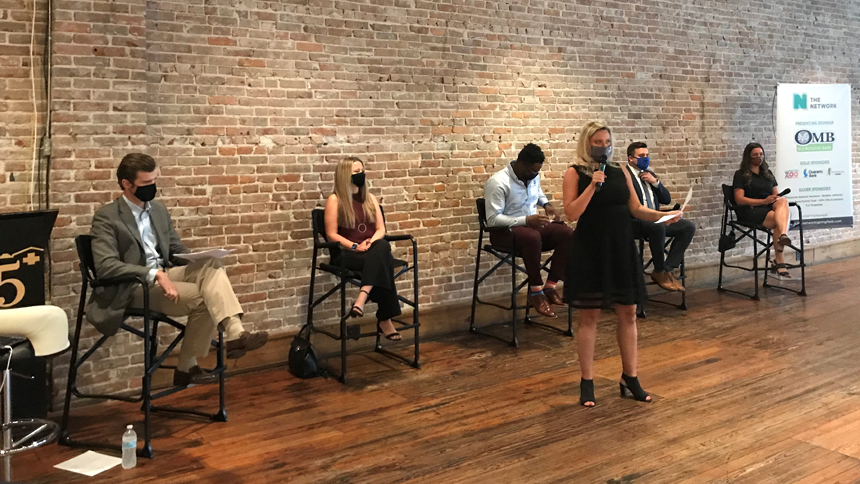 One of the goals of The Network is to connect young professionals socially and civically in the community, and one of the main ways members do that is through the group's Access to the Issues series. These events cover topics including candidate forums, ballot previews and more. And for the first time since March, some Network members met in person on July 17, with other members also joining virtually.
After holding a focus group with several members of The Network to understand their perspective of the Chamber, group leaders realized that many YPs do not understand how the Chamber's public policy efforts function or how the Chamber makes decisions when it comes to these issues. Since authenticity is an important value for YPs, the Network decided a peek into the process would be beneficial.
At the event, attendees got to hear from four different panelists. All were young professionals and all serve on a public affairs committee for the Chamber. The committees represented were:
Local Issues Task Force
Legislative Policy Committee
Voice of Business
School Board Endorsement Task Force
Here's what the panelists said they have learned from their time of service:
The Chamber truly wants the input of YPs; it's not just something they say to say
They have a greater appreciation for volunteer leaders
They've been reminded of the importance of different perspectives
They encourage others to get involved and be confident
Don't be afraid to ask questions
Network members said they are always grateful for the opportunity to have a seat at the table, and this program was a great reminder of that.
To watch the full event, check out the video on The Network's website.