Celebrating a virtual Good Morning, Springfield!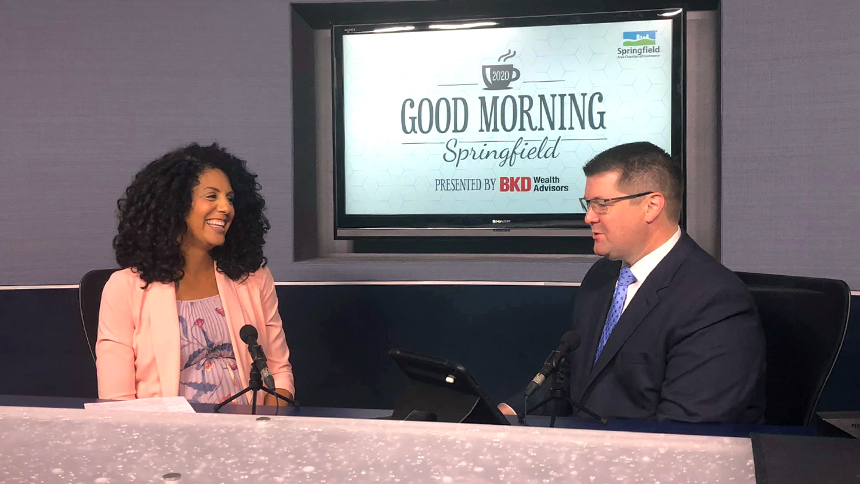 Dr. Nicole Holt, Springfield Public Schools' deputy superintendent of academics, offers an update from the school district during the July 2 edition of Good Morning, Springfield! with Chamber President Matt Morrow. 
The Chamber's monthly networking series – Good Morning, Springfield! – has, like most in-person events in our world in recent months, been forced to adapt and adjust to the current normal.
The July 2nd edition marked the fourth month that the event has been held in virtual form, streamed online to Chamber members and to the public. Viewers heard a wealth of valuable information about a variety of topics, from several presenters.
Erica Smith, a partner with the Springfield office of BKD CPAs and Advisors, provided an update on the latest information about the CARES Act, including recently added flexibility for Paycheck Protection Program loans and the potential for businesses to access employee retention tax credits.
Maurice Jones and Collin Quigley from the City of Springfield offered the latest city news. Quigley discussed several items including the Springfield Police Department's new "Where We Stand" online transparency portal. Jones discussed ongoing planning for the Grant Avenue Corridor project, funded with a $21 million BUILD grant announced in late 2019.
"It's a catalyst for us. We see it as a way to tie in some other opportunities for our downtown core as well," Jones said of the corridor project. "Ultimately, what does it mean for us in terms of sense of place? That's very important to us – how do we leverage this investment and tie it into other areas so we can use it to branch out to other areas of the community?"
Greene County Presiding Commissioner Bob Dixon offered an update from the county, including several county employees who have recently received accolades and progress on the jail expansion project. He also discussed the county's receipt of $34 million of federal funding through the CARES Act for reimbursement of COVID expenses and how Dr. Lyle Foster has been appointed to lead the effort to help disburse that money.
Nicole Holt, the new deputy superintendent of academics for Springfield Public Schools, offered an update from the school district. Holt, who was in her second day in the new job when she gave her presentation at the event, has hit the ground running during a busy and trying time for educators.
She noted that SPS has continued its meal service for students and families since the pandemic began, providing more than 650,000 meals in that time. She also said that the district's Explore summer school program continues, with multiple work groups also developing plans for how to handle school in the fall. "In our survey of parents and teachers, about 92% said. 'Yes, we want to come back in the fall,' and they listed CDC and (Springfield-Greene County) Health Department guidelines as really important to helping them feel comfortable in that," she said.
Finally, Chamber Chairman Robin Robeson and Vice Chairman of Public Affairs John Oke-Thomas talked about the Chamber's continued efforts advocating for priorities of member businesses at the local and state level. They mentioned state-level legislative wins including enabling legislation for tourism and early childhood education, as well as local advocacy efforts on issues such as Kraft's decision to expand its Springfield facility and Costco's decision to enter the Springfield market.
While there's a lot of information here, don't worry if you missed it. A full video of the event is here on our website.
Special thanks to our Good Morning, Springfield! Series Presenting Sponsor, BKD Wealth Advisors, and our July monthly sponsor, the Ozark Empire Fair.
In case you missed it, check out this video replay of the July edition of Good Morning, Springfield!