A look at COVID-19's impact on Missouri unemployment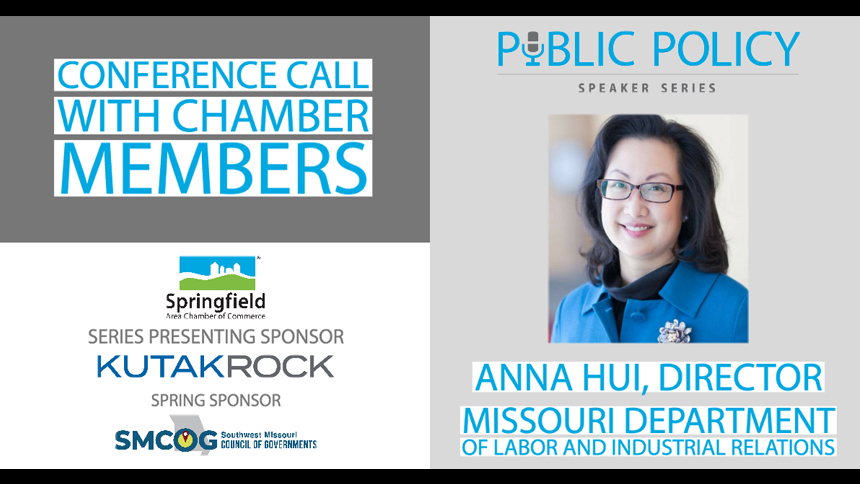 On May 20, Chamber members heard an update and guidance on the current unemployment implications of COVID-19 as the state moves towards recovery during the first installment of the 2020 Public Policy Speaker Series.
Anna Hui, director of the Missouri Department of Labor and Industrial Relations (DOLIR), connected with Chamber members through conference call for the first virtual PPSS event and outlined the significant economic downturn the state is facing due to the ongoing health crisis.
In March, Missouri saw the single highest increase of unemployment claims since 1975; in April, the state set a new record for monthly claims.
Since the onset of the coronavirus in Missouri in mid-March, the state has received a little over half a million unemployment claims, including nearly 50,000 daily claims at the height of the pandemic.
Many employers have expressed concern over employees refusing to return to work, and Director Hui outlined a new portal her department has unveiled where employers can report any employee that refuses to return to work.
In general, if an employer offers suitable employment to which an employee can return, and the employee refuses, unemployment benefits will cease.
"We have tried to make this portal easy to use for employers to report an employee's refusal to work, and the sooner we know, the sooner we can evaluate that claim for benefits," Hui said.
DOLIR has also developed multiple resources throughout this crisis to assist businesses and individuals, including recent guidance on using Paycheck Protection Loans to back-pay wages for previously furloughed employees.
Hui also said the Labor Department hopes to add a functionality to the work-refusal reporting portal that allows employers to report what employees are now being paid through PPP funds, as those employees who also received benefits for that time might have to repay that unemployment payment, as an employee can only utilize payment through PPP or unemployment, not both.
Hui shared her insights into a next phase of federal aid, including conversations surrounding how to start incentivizing work by focusing on the Shared Work Program, increasing apprenticeships, and potentially looking at additional stimulus aid for households. However, she noted that the conversations are still ongoing.
Moving forward, Hui hopes both her department and the state overall will continue to rethink policies and processes and improve them as COVID-19 continues to alter the future.
"Why not government?" Hui asked. "Why can't we run an operation that is similar to the best organizations out there?"
Our coronavirus resource center has a full recording of this event. Special thanks to the presenting sponsor of the Public Policy Speaker Series, Kutak Rock, and our seasonal sponsor, Southwest Missouri Council of Governments, for their support of this programming.