Staying virtually connected with young professionals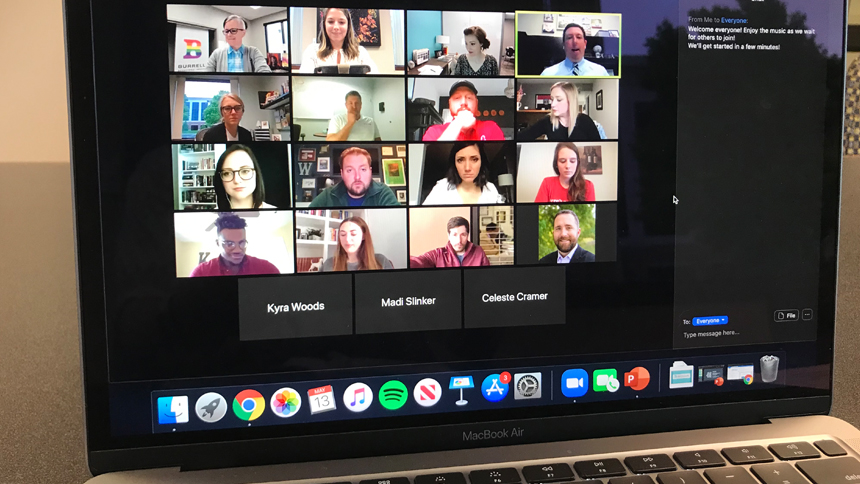 Despite the physical distance, members of The Network for Young Professionals have taken the opportunity to stay connected in recent weeks through engaging, live virtual events.
The first was held on May 13 featuring Dr. Shelly Farnan and Jana Greig from Burrell Behavioral Health, talking to members about the current COVID-19 situation and its potential impact on individuals' mental health – an especially important topic considering that May is Mental Health Month.
One of Dr. Farnan's main points was that our brains need self-care and connection in order to stay healthy, because people constantly assess their current situation for safety – which runs counter to the idea of physical distancing. This also means many of us could be in a state of mental grieving, since life has changed so dramatically.
What can we do to seek help? Dr. Farnan offered practical exercises to help ourselves and those around us when we are struggling. They ranged from simple mental "check-ins" to deep breathing, laughter, physical movement and artistic expression as ways to offer ourselves encouragement and positivity.
On May 21, The Network's planned on-field happy hour event at Hammons Field turned into a chance to connect virtually with Springfield Cardinals General Manager Dan Reiter.
Dan, who is known for his contagious positivity and optimism, talked to Network members about several lessons he has learned during the pandemic, including how he has engaged his employees, the community and Cardinals fans and stakeholders during this time.
Dan said he has tried throughout the crisis to "maximize the controllable." Dan said that by focusing on what they can control, he and his team have been able to stay more positive in the face of difficulty. That positivity also extended to communication between employees, which includes daily email sharing of jokes and upbeat comments intended solely to keep spirits high during a difficult time.
And it extends to the community as well. When the pandemic hit, Dan and his team quickly determined they wanted to be a community cheerleader. They launched three main activities for the community during the pandemic: launching a previously planned new kids club, spearheading a community blood drive, and creating a gift bundles program for fans with proceeds going to purchase food from locally owned and franchised restaurants for frontline workers in the community.
While these activities may not immediately benefit the organization's bottom line, Dan and his team knew that wasn't the most important benefit. "It meant a lot to our employees knowing they're helping," he said.
When it came to staying connected with sponsors, stakeholders and fans, Dan knew a cookie-cutter approach wouldn't be enough; honest, genuine messaging would be key. That meant not sending a generic message to every stakeholder. Instead, their communications came directly from Dan with a personal message – and each interaction had to be unique.
"You can learn from others, but don't copy," he said.